Dear NHL and JSL,
Today marks one week since the arrival of your new bunk beds. It has been a challenging week. Change is hard and this was definitely a big change for all of us. Not only did bed placement move for both of you, but night time routines became different.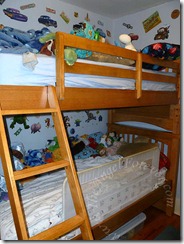 Daddy and I could not longer sit on the edge of NHL's bed to make sure you were quiet and went to sleep. No, going to the top bunk was really an option. We realized that this caused some hurt feelings after day three when you declared that you no longer wanted bunk beds and wanted your own room. JSL was also upset about not being about to jump into NHL's bed to give him a hug before bed. Giving up is not an option. We explained to both of you that this was a big adjustment for the two of you, Mommy, and Daddy. New routines and ideas had to be brainstormed to help both of you with these items.
Had the two of your stayed in your room when we were making the beds, you would have heard some complaining. This is not an easy task and will certainly be something that I cringe about. On Friday, while preparing for the furniture store to come back and fix something, I had to remove everything off the top bunk. I completely forgot where I was and stood upright on my knees. Ouch – hitting your head on the ceiling hurts! I think we need some warning labels on your top bunk NHL.
Thankfully, once you are asleep, you both seem very happy and well rested. We all need to remember that it is going to take time, lots of hugs, and patience to get used to our new lives with bunk beds.
Love,
Mommy
_______________________________________
If you want to participate in Dear Kid Saturday, head on over to Cutest Kid Ever by clicking on the button below.