As a child, I remember going to my friend's house and dreaming about bunk beds after seeing her brothers room. Fast forward to having two little boys of my own and a small house. Yes, my love of bunk beds suddenly changed to fear. We started our search for bunk beds well over a year ago. When JSL was three, we knew our clock was ticking. We went to stores, browsed, and went home to think about things. Since JSL seemed happy in his toddler bed, we didn't think much of it until sleepless nights and a four year old bunking in our queen sized bed. If the boys wanted to stay in the room together, two twin beds were not an option within the space. The boys insisted that they did not want to be in different rooms and were excited about bunks.
So, what was I afraid of? Let's be real here, there are a lot of different types of bunk beds on the market.
Not All Bunk Beds are Created Equally:
We went to countless stores in our area last time we looked and over the last month. I would not order online because I had seen in person that many bunk beds are very different than they appear on a website. Where some looked sturdy to the eye, they wobbled horrible if we just touched them, no less put our children into them. Others had ladders that frightened me and I could not imagine my children using, no less me when making the top bunk.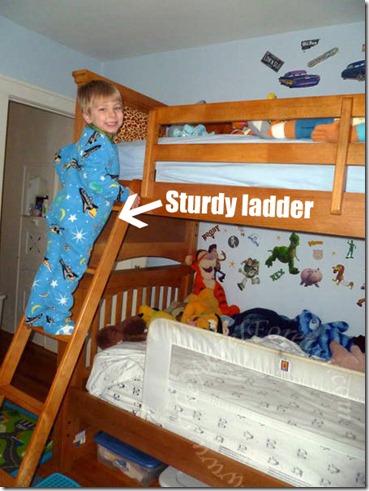 The spacing between the bunks are not standard. I kid you not, they can be VERY close, very far apart, or just right. Some allow you to adjust this, but most are stuck the way they are built. Some of the sets made me worry about the kiddo or adult sitting in the bottom bunk. I mean, you should be able to sit up in bed and not worry about getting a concussion. Of course, the mother in me also knew that the kiddo on the bottom would possibly try to kick the top bunk while lying in bed, so a little distance would help to avoid this at least while the kids are smaller.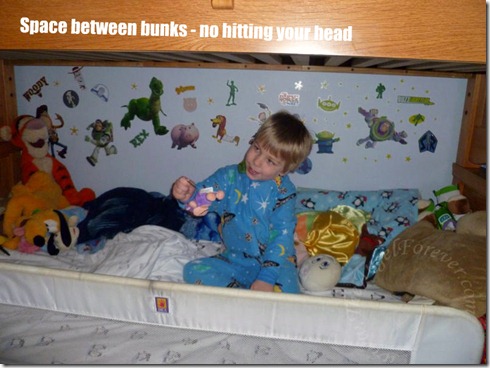 On the flip side, the top safety rails on bunk beds are often VERY different. My oldest son NHL is 8, but he is a restless sleeper. I knew that we had to had a bunk bed with a top rail that would hold his mattress and still provide a great barrier to stop him from falling out of bed from six or more feet above the hardwood floors.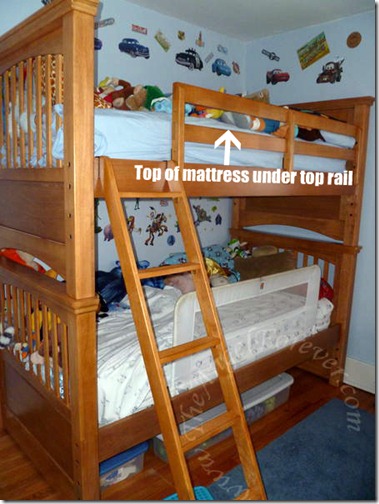 Support for the mattress is not a given on all of the bunk beds that are out there. When we looked in the past, most of the bunk beds had 2-3 supports across the bottom of the top bed. A bunkie board would help with this, but I had nightmares of the stores that had these on their floors with the mattress sagging out and almost spilling onto the bunk below. Luckily, most new bunk beds sold at furniture stores have the new slot system. Without a box spring, you need to have other items in place to support the mattress. We also bought each of the boys a bunkie board to help with this. 
There are other factors to consider with the safety of bunk beds while shopping around. These are just some of the more hidden items that became very important to us during our search.
Rationalizing the Investment:
Quick note here, I am the person that thinks of all big ticket items in terms of a trip to Disney World. A fix to my car is converted into plane tickets, or nights we could stay in the magical destination that we adore. So needless to say, when we were pricing bunk beds, my brain naturally went to this route and thank goodness some of the furniture store associates had a good sense of humor.
TechyDad and I eventually realized that bunk beds are an investment. This is something that our boys will be using for many years to come. We had to get something that would hold them at their current ages and well beyond. Our kids, the most important items in our lives, had to be safe on them. If being safe and covering the items above meant spending more money, it had to be done.
We were lucky. We knew that we had to get twin over twin bunks. We also knew that we could not get storage drawers under them because of the room set up. Our dimensions left us searching for an old fashioned bunk bed style using a ladder and not a stair case (yes those exist). There was no room for a built in desk or shelving either.
We eventually realized that the simplicity of the bunk beds that we wanted would be a good thing. When we narrowed down our search there was something else that we realized was important. Some bunk beds can be converted into separate beds. Yes, they can be stacked one on top of the other, but they can also go on their own. Not all can do this. In addition to this, not every set that can be made into two beds has the option of supporting a box spring under it in the new format. TechyDad and I really wanted to make sure that if/when the boys want their own rooms, or we move to a larger house, that we are not stuck with bunk beds. We also knew that we wanted to be able to put the box spring support option back in and not have platform beds.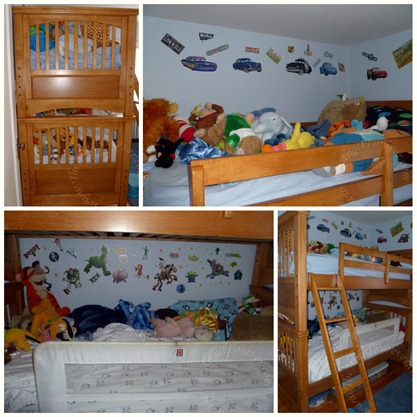 Yes, the bunk beds that we finally selected from Raymour & Flanigan do all of these items and passed our personal safety test factors. The boys are slowly adjusting to the new sleeping arrangements and TechyDad are also working on some rules of use.
Do you have bunk beds for your family or did you have them as a child? I would love to hear about your experiences and any rules that you had to make sure everyone was safe.