Last year, I read a blog post about a book called My Name Is Not Isabella: Just How Big Can a Little Girl Dream?
It was not just any book. It was about inspiring children, especially girls, to dream big. The spunky little character within the story is Isabella. Author Jennifer Fosberry introduces us to this fun child who did not simply want to be herself, she wanted to be famous women in history. I fell in love with the New York Times bestselling book and was so excited to hear that Fosberry and illustrator Mike Litwin teamed up again for the new sourcebook about Isabella. The book is being released today.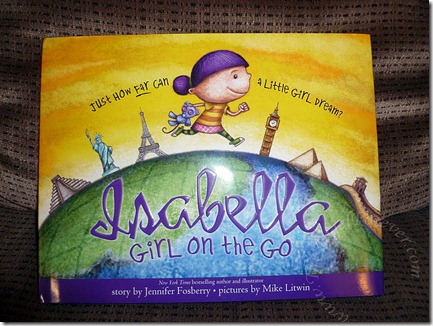 In the first book, Isabella uses her imagination to showcase to her mother the amazing scientific women that she is pretending to become. She learns that the sky is the limit if she follows her dreams. In Isabella: Girl on the Go, we watch as Isabella sits in her backyard and talks to her father.
Once again, Isabella's imagination takes her from her yard and propels her into the adventure of a lifetime. Each time her father asks her who she is, we are whisked off to a new city where we see a famous structure.
Thanks to Isabella, we are able to see that everything in the world is just a dream away. We learn about new careers like being an archeologist, artist, astronomer, and more while traveling to places like Paris, London, China, and beyond. The playful words from Fosberry allow readers to see where Isabella has gone in her imagination. They are paired perfectly with the gorgeous illustrations from Litwin.
The book really could be for multiple age levels. Younger children will marvel at Isabella's silly imagination and talks with her father while in her own yard. Older children can use the tale as a starting point to do more research about the places and structures that Isabella sees within her vivid imagination. At the end of the book, there is even more information about the places and structures that we visit.
I know that I highly recommend this book and hope to use it for gifts in the future. More information about the book, a downloadable Isabella Girl on the Go Passport and activity kit, and book tour can be found on Sourcebooks website. I know I will be printing these out to try with my kids soon. They look like a fun addition to a book study in a classroom, or something to try at home on a snowy or rainy day.
What have you read recently? Please be sure to link up to your book posts in the comments below. Include something you read on your own, with a child, or someone else. Tuesday Tales are all about spreading the love for books.

Disclosure: I received this book complimentary of Sourcebooks in order to facilitate this review. No other compensation was given. The opinions expressed in the review are my own. Two Amazon Affiliate links are included in this post for the two books mentioned. I will receive a percentage of money for the sale should you opt to buy the book through that link.