When I was teaching younger kids, one of the items that was fun was to pick a unit plan, theme, or other item to cover with the kids. In first grade, this would involve lesson planning across academic areas and lots of items for center activities. One of my favorites was for If You Give a Mouse a Cookie and also the Five Senses. Yes, there are days when I really miss that part of being in the classroom.
As the parent of a child in preschool, it has been fun to see what his teachers pick and choose each week to do with kids that are now 4 and 5 years old. Tuesday morning, we walked into the classroom and the theme was very clear.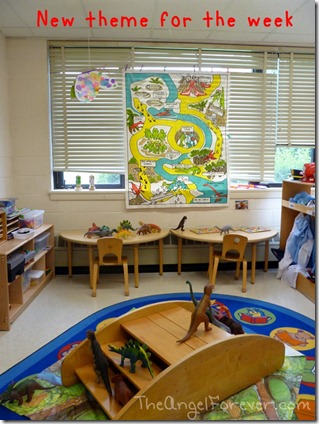 The details in the classroom were amazing. There were dinosaurs romping all over the place. They were here:
Yes, there were even more dinosaurs over on the other side of the room. The best part: Laurie Berkner's We are the Dinosaurs was playing as the kids explored the new dinoland.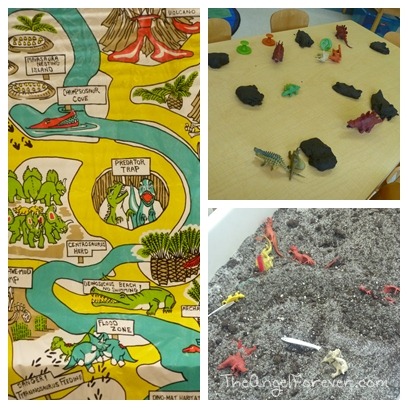 When JSL went in the next day, I suggested wearing one of his dinosaur shirts. Little did we know that his shirt would be perfect inspiration for a project they were making. Check out their dino hats.
So my question to you week is inspired by my son's creative teachers:
What theme in school was your favorite as a child? If you can not recall, how about a favorite your child has done or perhaps one you wish you had done.

P.S. If you are in a dinosaur dancing mood, here's a little Laurie Berkner video.
___________________________________________________________________________
Thanks to Kailani at An Island Life for starting this fun for Friday. Please be sure to head over to her blog to say hello and sign the linky there if you are participating.
Aloha #204