When I head to the doctor's office, I rarely pay attention to the art on the wall. Most of the time, I am wrangling children, reading a book (if lucky enough to be alone), or catching up on e-mail (hello smart phone). There could be some amazing art on the walls, but I'm sorry to admit they are usually wasting their money trying to impress me with it.
All of this may have changed the other day. I had my annual gynecologist appointment. After I put on my magical paper gown, flicked the ready switch, covered my legs over, I sat with nothing to do but wait. Everything else was on the chair with my clothing. Suddenly, I looked up on the wall to this: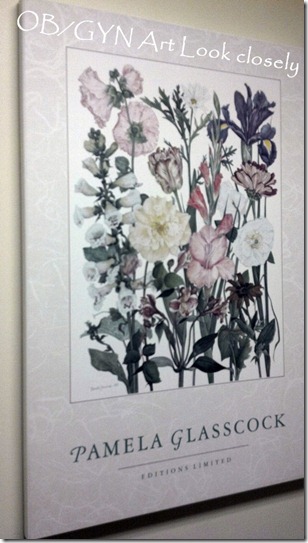 The next thing I knew, I was laughing. It was like I was a middle school student in a health class. I knew that I had to pull myself together before my exam. I also knew that I HAD to take a photo there was a blog post here.
Did you notice what made me laugh? If not, take a close look at the artists name. I am not making fun of it, just think it's hilarious since I was sitting with stirrups starring me down in a paper gown. It made me wonder if they had done it on purpose. Perhaps to see if patients were paying attention and to provide a little comic relief since so many people get anxious while waiting within this type of medical practice. I think I like this more than the anatomy posters or ads for different medications. It made me think and laugh at the same time.
So my question to you this week:
Do you look on the walls while waiting for your doctor? I would love to know if you have ever noticed anything like this. It really makes me wonder if others may be doing similar hidden funnies for patients to find.

___________________________________________________________________________
Thanks to Kailani at An Island Life for starting this fun for Friday. Please be sure to head over to her blog to say hello and sign the linky there if you are participating.
Aloha #209