Melted, gooey, delicious cheese with items to dip in it. I do believe there are days that I have dreamed about what it would be like to finally head to The Melting Pot. I no longer need to think about it since we went there earlier this week for an early birthday dinner for TechyDad.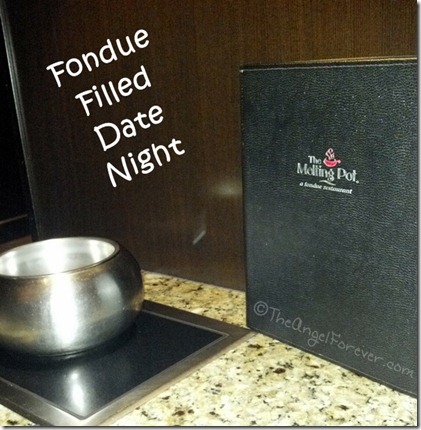 We have always been curious and wanted to head there for a nice romantic dinner, but never done it. Thanks to a great Living Social deal I snagged, I asked my parents to watch the kids so we could try this new fondue experience. When we arrived, we were seated in what we later were told is the "Lovers Lane" table. It was secluded, private, and nice to be able to take photos without glaring eyes. As The Melting Pot Twitter account knows, we had fun sending Instagrams during our meal. Kuddos to their social media team for A+ interaction with people as well.
Our server Kim came to our table quickly to explain some options to us. We had originally thought we would simply do a cheese starter and then a dessert. She explained that we could share one of the vegetarian entrees as well since we were talking about ordering salads. We talked it over and thought it was a nice idea to splurge since it was a special occasion.
To begin, we selected the Spinach Artichoke Cheese Fondue. Here's the description: "Rich Fontina and Butterkäse cheeses blend perfectly with spinach, artichoke hearts
and garlic." All of the cheese fondue options are served with rustic artisan breads, fresh vegetables (carrots, broccoli, and cauliflower), some tortilla chips, and Granny Smith apples. When Kim arrived at our table she had all of the ingredients and made the deliciousness right in front of our eyes.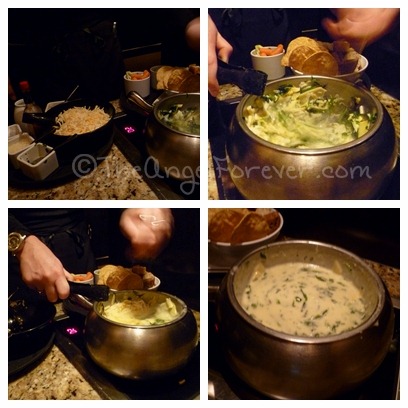 There are few words to describe how delicious this was. I think the picture may help to explain it a little more than I can.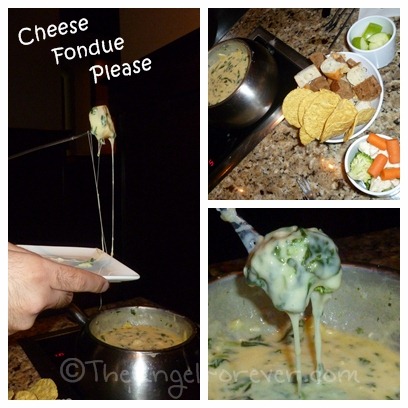 Our Caesar Salad to share arrived next. You may think it was just a Caesar Salad. You would be very wrong. The added bonus of Parmesan-encrusted pine nuts were an amazing touch.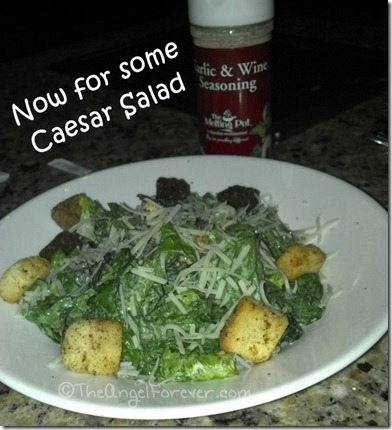 Next, it was time to learn something new. The fondue pot was delivered to our table to get ready. Inside was our selected entrée cooking style. TechyDad and I opted for the Court Bouillon which was a vegetable broth hand-seasoned with herbs and spices. This sat for a while filling our little area with an amazing aroma.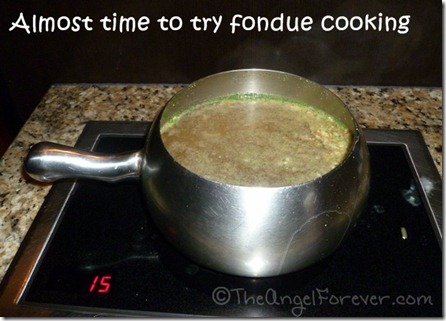 When Kim arrived back at our table, she had a lot of items to show us. First was our entrée plate. We selected The Vegetarian which is: "A selection of fresh vegetables including edamame or onion rings, artichoke hearts, Portobello mushrooms and asparagus served with Thai peanut-marinated tofu, spinach artichoke ravioli and our Big Night Out pasta."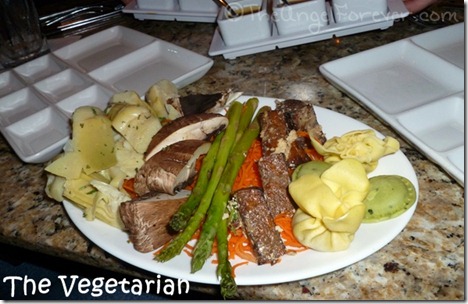 In addition to this, we were given a bowl of vegetables and potatoes, along with all of the entrée sauces to try.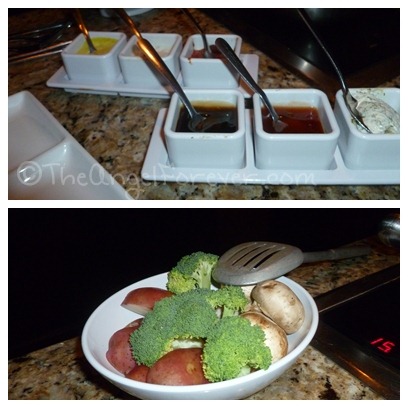 Kim explained how long to let everything cook in the fondue pot before it would be ready to eat. She also recommended making our own stuffed mushroom caps by cooking up the mushrooms and putting the Green Goddess Sauce (a blend of cream cheese, sour cream, onions, chives and parsley) into them. That was beyond melt in your mouth amazing.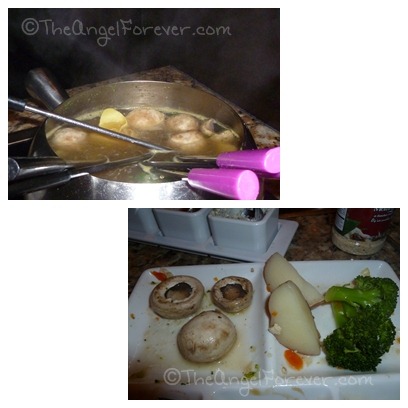 I wish we had taken more photos of the cooked tofu and other vegetables from the first plate, but well we were too busy enjoying our meal. Before we knew it, we had to make a selection from the dessert menu. Since we were celebrating TechyDad's birthday, it seemed like the right thing to do.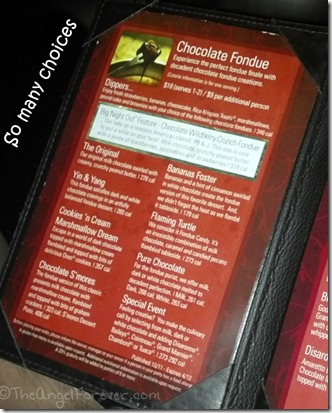 The birthday boy selected the Flaming Turtle. Please prepare yourself for this description: "We consider it Fondue Candy. It's an irresistible combination of milk chocolate, caramel and candied pecans flambéed tableside."  All of the chocolate fondues are served with a variety of dippers that include fresh strawberries, bananas, cheesecake, Rice Krispy treats, marshmallows, pound cake, and brownies. Are you drooling yet? If not here is what was delivered to our table with a little surprise from Kim for TechyDad's birthday.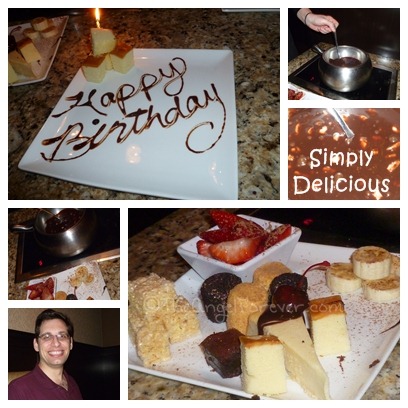 Our meal was delicious and we had an amazing date night out. I think this is a fantastic location for parents to head for a splurge – it is well worth it. Of course, now I am wondering why we have never tried our fondue set that we received years ago. I have a funny feeling it may be coming out of hibernation soon. First up – making vegetables in some broth ….and then perhaps some cheese and chocolate.
Have you ever been to a fondue restaurant? What is your favorite item to use for a dip or dip into it?