In our part of the country, we do not head back to school until after Labor Day. We have an extra winter break to save on heating, so school does not get out until the June 22. This summer has been a whirl wind for me. There were days that were amazing, and yes there were days that dragged and I could not wait until TechyDad got home. Of course, I would not change the fact that I have been home with the boys since JSL was born.
It's hard to believe that now, five years later, my little guy is ready to be a kindergarten kid. This may be my second time sending a child to start school, but I think it is more difficult this time around. JSL is my "baby" and he's been with me all of these years. In addition to this, we are not at the same school that NHL started in years ago. It's all new to me in this building and I have to admit – it is a little overwhelming.
Thank goodness JSL seems very excited about kindergarten. We went earlier in the week to orientation where he met both of his teachers and was able to explore his classroom. After we took a pile of papers out of his cubby, we sat down by his seat for him to do a little assignment for his teachers.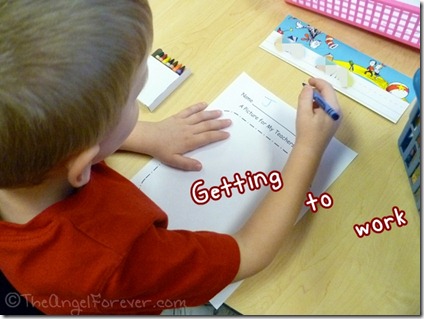 As soon as I read the instructions, he was ready to go. He wrote his name and got started. He knew exactly what he wanted to draw for his new teachers and when finished I asked to take a quick photo.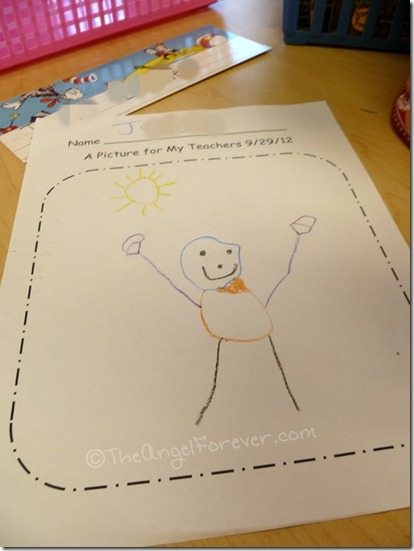 As the other children finished, the teachers called them over to the rug in the front of the room. They read The Kissing Hand  (one of my favorites) to the group while parents worked on filling out some of the papers given to us. Then, the kids talked about the story, asked questions, and even parents had the opportunity to inquire about things.
As I get ready to send another kiddo into kindergarten, it inspired my question this week:
What kindergarten or elementary school memory is one of your favorites and why? It could be from your childhood or one of your children's if you have any.

Disclosure: An Amazon Affiliate link for The Kissing Hand is included above. If you use it to purchase the book, I will receive a percentage from the sale.
___________________________________________________________________________
Thanks to Kailani at An Island Life for starting this fun for Friday. Please be sure to head over to her blog to say hello and sign the linky there if you are participating.
Aloha #218