Dear NHL and JSL,
Getting hair cuts for the two of you has not exactly been one of my favorite items to accomplish over the years. I think we often wait until your hair is beyond ready to get a trim because it has always been an adventure. Whether it was bad cuts, too many noises, people that were not friendly with children, or our favorite person leaving – something always seemed to happen.
Over the years, I have documented a lot of your hair cut milestones. There was the time NHL decided to be a barber at six years old and we had a hair emergency. There was the photo shoot of JSL's first hair cut back in November 2008. Thanks to this, it should not be a shock to either one of you that I had to take photos when we finally went to have your hair done at the Snip-Its last weekend (they opened during the winter).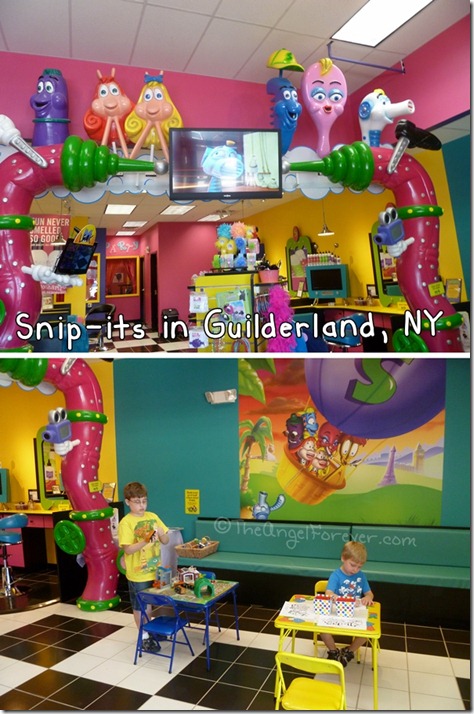 I will admit that I am now kicking myself for not taking both of you here before this time. It was not just a place to get hair cuts, it was an experience. From the moment you walked in, the two of you were mesmerized. Snip-its was bright, beautiful, and beyond kid friendly. The two of you kept busy while I chatted with the owner and filled out some forms to get coupons in the mail. Then, it was time to get your hair done.
Both of you were so quiet the entire time. Neither of you were wiggly, upset, or bothered by the new location. Of course, I do believe I now know the secret of success at Snip-its. Yes, they have a great weapon to keep kids happy and it worked brilliantly.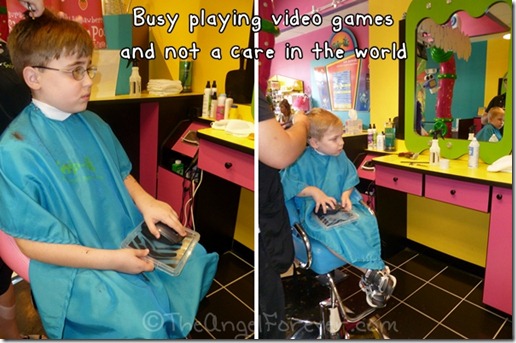 The two of you were more worried about your gaming than anything else. There was a milestone of sorts on this adventure. JSL, you finally had a haircut that used clippers. Since you are going to kindergarten and the amazing hairstylist showed you not to be afraid you agreed. When we asked if it was too short, you said you wanted more off. I have a feeling you would have kept going until you were bald because you were so happy. When it was finally time to go, you used your passes to get your prize.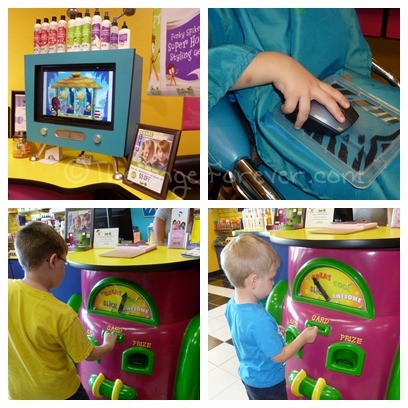 I know that we will be back to Snip-its because we all had a wonderful experience. The people there were fantastic with both of you, they get working with kids and that means a lot. Thank goodness Daddy was on his toes. Before we went in, we took a photo of the two of you with the figure outside the store. When your hair cuts were done and paid for, we  did another one. Here are the results: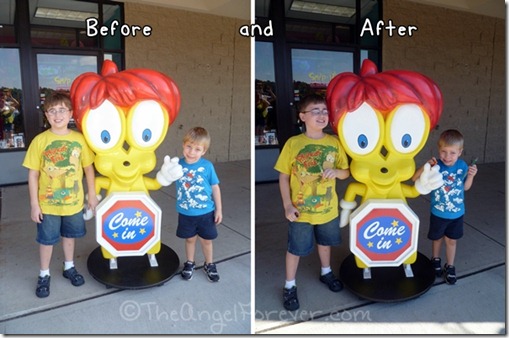 I hope both of you agree that we will be heading back to Snip-its again when your hair needs some attention. We will leave it to the professionals who know what they are doing and work well with kids.
Love,