This year, the boys seem to be more intrigued by the Olympics. We watched part of the Opening Ceremony together the night it aired, and saw the rest of it with the DVR. The night before it started, we read Olympig! together. Then, NHL and JSL noticed books in a display at our library. The books were all about the Olympics, athletes, London, and more. There were books and movies for adults, plus a variety for kids.
NHL has been fascinated with the swimming and diving events. He has followed along as Michael Phelps made Olympic history with his medal count. It was not a surprise to me that he wanted to take out a book on this great athlete when he found it on the display.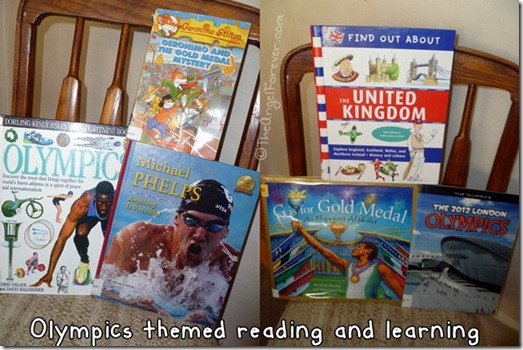 As you can see, several of the books have come home with us to read. It goes to show that there are always books to help expand on subjects at home or expose children to a themes,  travel locations, or people – it just take a little research at times.
My question to you this week:
What sport or athlete from the London 2012 games would you love to learn/read more about and why? If you have not been following along, what is your favorite summer game or what do you wish was in the Olympics?

___________________________________________________________________________
Thanks to Kailani at An Island Life for starting this fun for Friday. Please be sure to head over to her blog to say hello and sign the linky there if you are participating.
Aloha #215