It is no surprise that I love our library. I write about them, the amazing librarians, and the programs they schedule often. Last year, I fell in love with one particular day when the Tang Museum came to make Story Towers inspired by the artwork of Josh Dorman. This year, I knew that we HAD to head to the afternoon when Tang was again reaching out to the local libraries to do projects.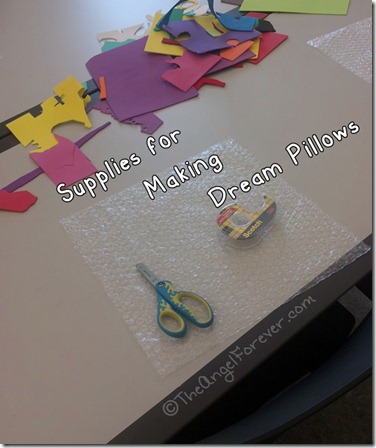 They started off talking to the kids about three dimensional art and what it means. Then they showed a poster of one of Oliver Herring's sculptures. What I didn't realize until I went to their website at home is that the Me US Them, Queen Size Bed with Coat is huge. I knew they said it would take up the space the kids were sitting in. It is actually a sculpture made of Knit silver Mylar and 12 x 57 x 88 inches. As a knitter, I am intrigued to learn more about this type of sculpture. They showed this to the kids and asked them what they saw. Many mentioned a pillow, shining objects, and more. Then they saw another piece before it was time to learn about their projects.
Since the theme of New York State Libraries summer program is Dream Big READ, the Tang Museum decided to make Dream Pillows. As you can see above, the supplies needed were on the table for the kids. Foam pieces, scissors, bubble wrap, double sided tape, and their imagination. The only additional item needed was some colored tape to make a frame around their art when the top layer of bubble wrap was added. Before the kids were sent to the table to be creative, they were shown a few examples. Here are two that I took photos of to share.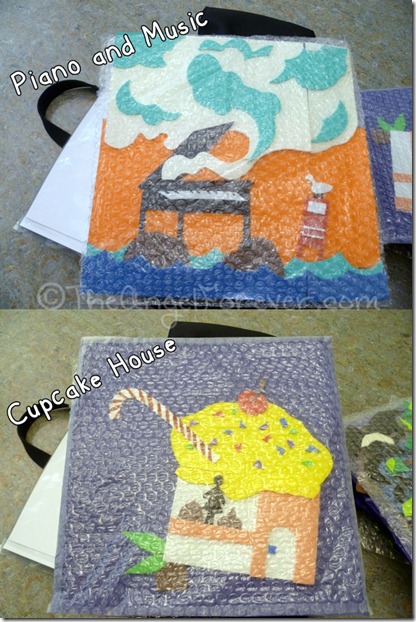 As soon as NHL and JSL sat down, they seemed to have an idea and got started. While I was chatting with a friend who came in to surprise me, the women from the Tang Museum helped the boys to find items that they needed (thank you). By the time I arrived, they were already taking shape.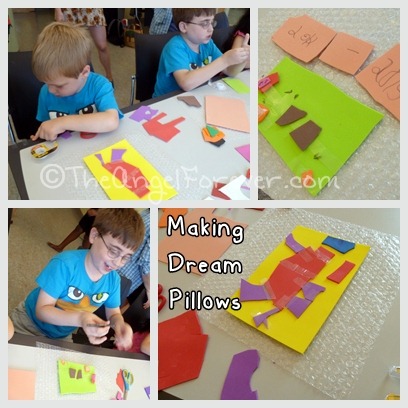 NHL decided to make a scene from Back to the Future (he's been watching those with TechyDad lately). JSL opted to make a fun robot. Here are the boys holding their finished dream pillows.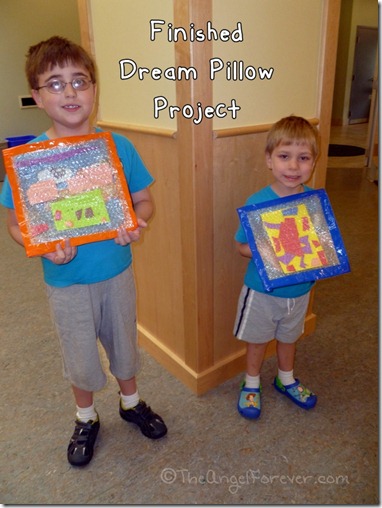 Thank you again to our wonderful library and the Tang Museum for bringing more art education into the lives of children in our community. My boys have been asking to visit the museum soon and I hope to be able to do that. I would love to know, have your children done craft projects while learning about a new artist or style of art work? Art mixed with education is a powerful tool and I would love to know. Please share in the comments below.