Happy New Year and greetings to an illness after going back to school. Poor JSL has been battling something since he went to the ENT and started ear drops. Bit by bit things intensified as the holiday weekend came upon us. Monday afternoon, I was sure that he had turned a corner. Here is the kiddo doing his best Doc McStuffins impression:
What I didn't know at the time was he was not doing well (just thought he was stuffy). About thirty minutes after this video was taken, JSL seemed a little warm. His temperature was elevated, but nothing too serious. Then, shortly after that, TechyDad thought he was really burning up. Sure enough, in about twenty minutes, his temperature went from under 99 to 101 (his normal temperature is 97). With his febrile seizure history, I knew we had to call the doctor. Drama played out getting a medication that was in stock at the pharmacy, but we got it. Thanks to the fever, Rosh Hashanah was spent home taking care of the little guy.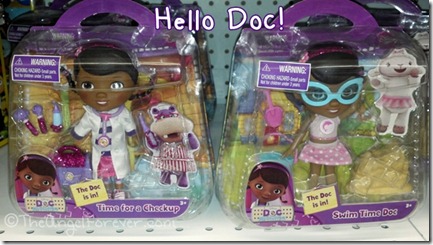 JSL was fever free and ready to go back to school on Wednesday. As I pulled out of our driveway, post-nasal drip proved me wrong. I will spare you the details, but let's just say JSL needed a change of clothing. We walked into school, since I had hoped I could just wipe him down. I was wrong and his teacher noticed how swollen his face was. We went back to the ENT again and now think it was an ear infection that is draining.
My little JSL McStuffins was fascinated with the instruments being used by the doctor to remove wax blocking his ear canal. What was even better was he was having this done while Doc McStuffins was playing on the television in the exam room.
So our Talk Like a Pirate Day Adventures were a little different than I had expected, but in the end JSL had a smile on his way and as of today no ear infection. Bonus, he got some fun new Jake and the Never Land Pirate items later in the day,.
Of course, our doctor's office got me wondering about things. What does your doctor have to help kids to be "distracted" and assist during an exam or procedure?