Children learn early that is is not acceptable to steal written words from other people. Of course, that does not mean that everyone follows these copyright laws. As a teacher, I had ways to check to see if my students were plagiarizing their book reports, essays, and other items. It's sad to say that tools exist for teachers. This was probably part of the reason why I made book reports into projects that were more creative and outside of the box. They were more fun to correct and share. Plus, they were harder to copy from a source.
As a parent, I have had to explain to my nine year old that when he needs a photos for a project we have to go to sources that are acceptable. Simply using Google images to hunt something down is not allowed. This is something that many schools are starting to explain to students, but with budget cuts many technology education curriculums are being slashed. This often means internet usage and copyright laws are not being covered properly. We need to make sure that our children are following these.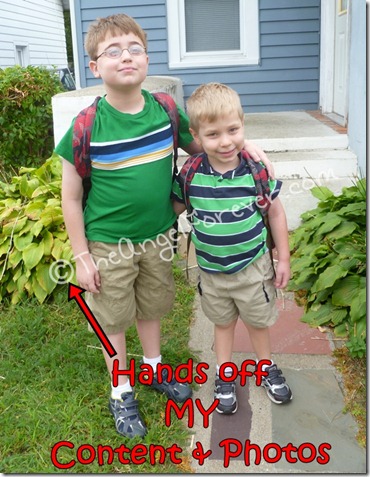 Now, you would think that grown adults would know better than to copy something that was not their work. This is not the case. Several months ago, I had a content scrapper pull an entire blog post about my anniversary. Every word, photo, link, and item was pasted onto their for-profit website. No permission was asked, it was simply taken. I caught it because of a ping-back on a link within my stolen post. I submitted a comment requesting the item be removed immediately and mentioned DMCA laws. After a week of nothing being removed and noting more and more stolen item on their website, TechyDad stepped into use his webmaster ways. Since they were pointing to MY photos hosted on my server, we replaced their call to them with this: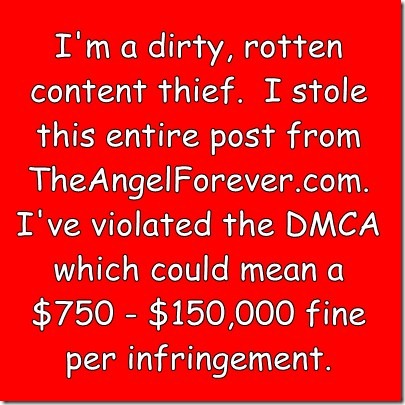 This remained on their website for a few days, then the website vanished. Of course, not all content thieves leave a trail. Case in point – the NickMom website (that I refuse to direct you to). If you have not heard about their massive blunder, you must head over to read Amy Lupold Bair's post where she introduced the blogging community about the tactics of NickMom. Kelby Carr, Type-A Mom, continues to update her post about how NickMom is sliming parent bloggers. More and more bloggers have written about how to protect your photos after they realized their items were stolen. The reality is that NickMom continues to publish content that is not theirs and will not remove it unless the owner notifies them. I love the way Emily, ColoradoMoms, puts it. The picture of her adorable son and the caption are spot on. Nichole Smith, The Guilty Parent, compares this tactic to stranger danger. These wonderful women, and so many others, have now written about this topic, but one post really hit home. It was from Sarah, Nerdy Apple, on why she left NickMom. As someone who once left a writing job because I was worried about my reputation, I applaud Sarah for standing up and protecting herself. As a community, we must unite to protect each other and stop people from thinking that it is acceptable to take content without permission.
So my question to you this week:
Had you heard about the NickMom drama and have you ever had someone take your writing, photos, or other work without your permission? Would love to know your take on this ever growing issue in the blogging world.

___________________________________________________________________________
Thanks to Kailani at An Island Life for starting this fun for Friday. Please be sure to head over to her blog to say hello and sign the linky there if you are participating.
Aloha #221