During out first trip to Walt Disney World with the boys, they were pretty terrified of characters. On our first evening there, we had dinner at Chef Mickey and it did not go too well. We had two little boys (5 and almost 2) hiding on the inside of our table and underneath.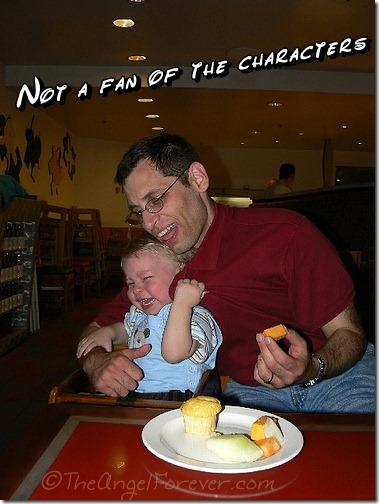 The following day, we went to Disney Hollywood Studios to explore that park and celebrate Mother's Day. While there, we had the opportunity to go and meet Lightning McQueen and Mater. We figured the kids like Cars and would adore these vehicles since they were not "characters" like at Chef Mickey.
Here is NHL getting his picture taken with the duo alone.
Notice how NHL, in kindergarten at the time, stood in the middle and looked a bit distracted? He was not a fan of the loud car noises, especially from Mater. When it was time for a family photo, you can see JSL (turned 2 during our stay) was clinging to TechyDad trying to hide, and NHL moved closer to me than Mater.
Fast forward to April 2012. Now the boys were 8 and almost 5. They had learned to appreciate the characters, but had avoided Lightning and Mater. While TechyDad and I were off at a conference day, Nana and Papa took the boys to Hollywood Studios. Much to my surprise, within our PhotoPass pictures were the following items.
Both of the boys were alone with Lightning and Mater. NHL was actually touching Lightning and now the almost kindergartener was in the middle being brave. Then one of my favorite photos of NHL was in this group. He was so happy, focused, and proud of being next to Lightning.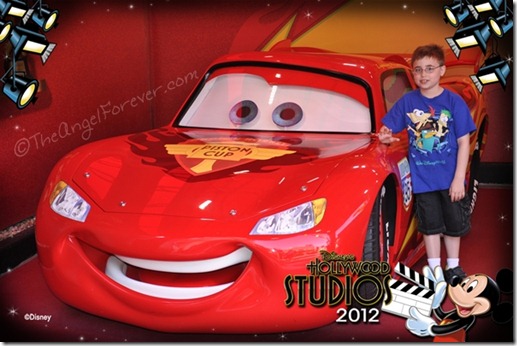 This was a big moment for NHL and I was so glad that the magic was captured by the PhotoPass photographer. Of course, they also got a great shot of the boys with Nana and Papa.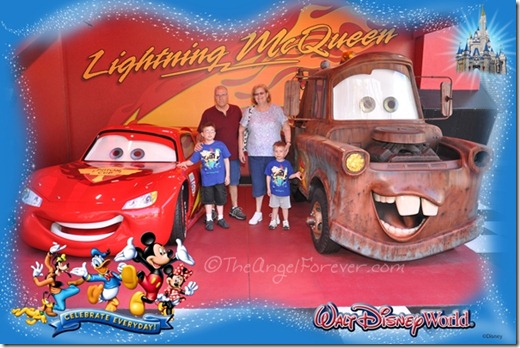 Thanks to being able to go to Disney several times, the kids have overcome their fears, grown, and shared many magical moments like these since their first trip in 2009.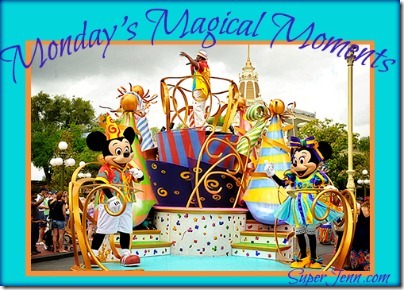 This post is part of the fun over at Super Jenn and her Monday's Magical Moments Meme. To join in the fun and link up, head on over to the linky there.