As a teacher, I loved teaching a poetry unit to my classes each year. We would spend time learning the different styles, getting creative, and sharing items with each other. It was a great way to break the ice when the school year started. As a parent, I have many poetry books in our house. There are silly poems, kid poems, and more.
Recently, Sterling Children's Books contacted me about a new poetry book from their Poetry for Young People Series. Poetry for Young People: African American Poetry
is edited by Arnold Rampersad and Marcellus Blount with illustrations by Karen Barbour (Sterling Children's Books, ISBN13: 9781402716898, January 2013).
The book begins with an introduction that gives a history of the emergence of African American poets. We learn how Phillis Wheatly published her poems about being forced from Africa to America in 1773. Then George Moses Horton shares how he battled the mindset that slaves should not express their views. The history lesson unfolds and poems from the people are within the pages of the book. We are able to read from multiple well known African American poets from over time including Langston Huges, Gwendolyn Brooks, Alice Walker, Maya Angelou, and more.
Each page of the book has a poem, the authors name, and a little history about them. The 34 poems within the volume help to tell a story along with the beautiful illustrations on each page.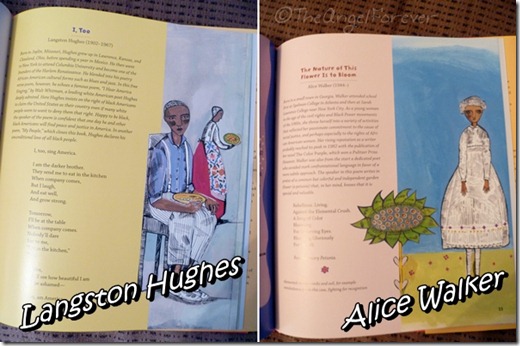 I really like the idea of this book and the series. Not only would it be a great addition to a unit on Black History Month, but also the history of poetry in different periods of time. I know I am now curious to see some of the other books in the Poetry for Young People series including those about Edgar Alan Poe, Maya Angelou, Emily Dickinson, Lewis Carroll, and others. Teaching more generations to love poetry is crucial and these books will be a great resource for families and classrooms.
I would love to hear about poets that you learned about and read as a child or with your children. As always, please share what you have read recently. Be sure to link up to your book posts in the comments below. Include something you read on your own, with a child, or someone else. Tuesday Tales are all about spreading the love for books.

Disclosure: My family received the books mentioned above from Sterling Children's Books in order to facilitate this review. No other compensation was given. The opinions expressed are my own. An Amazon Affiliate link is included in this post for the books mentioned. I will receive a percentage of money for the sale should you opt to buy the books through the links.