When I was teaching, one of the items I would do almost every morning with my elementary aged students was to put a creative writing prompt on the board. They would interpret it whatever way they wanted in their journal and they could draw a picture to go along with it. When I was teaching older students, I had journal prompt books that I would occasionally use and allow students to pick from a few choices for longer essay writing. As I mentioned earlier, my soon to be first grader adores writing. He has several journals that he uses. One is for writing poems, one is to write about things we have done this summer, and the other is just random. Summer Writing Time shared what my boys have been up to in addition to mandatory reading from me.
There are days when JSL says he does not know what to write about. If I suggest something, all bets are on him refusing that topic. So, when we were out at Target and saw some new Crayola Creative and Activity Books, I convinced him to let me buy one to try. I have a feeling the pig on the cover reminded him of Piggy at home and that's why he wanted it.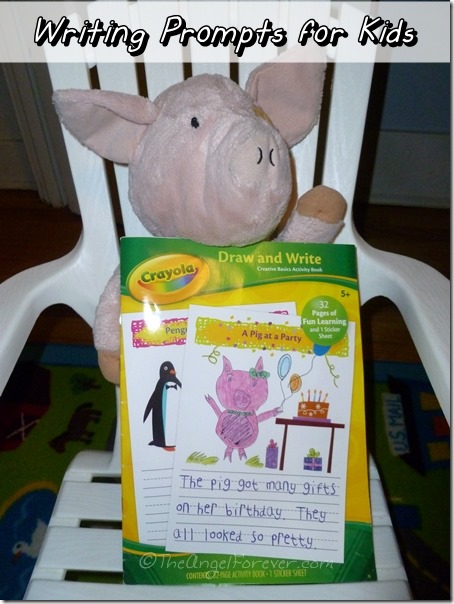 When I looked inside I saw something that was perfect for a preschooler to first grader. Each page had a title/writing prompt that was easy to read. Under that was space for the child to draw or complete a picture. Then there were three lines of primer rule for the kids to write about the picture above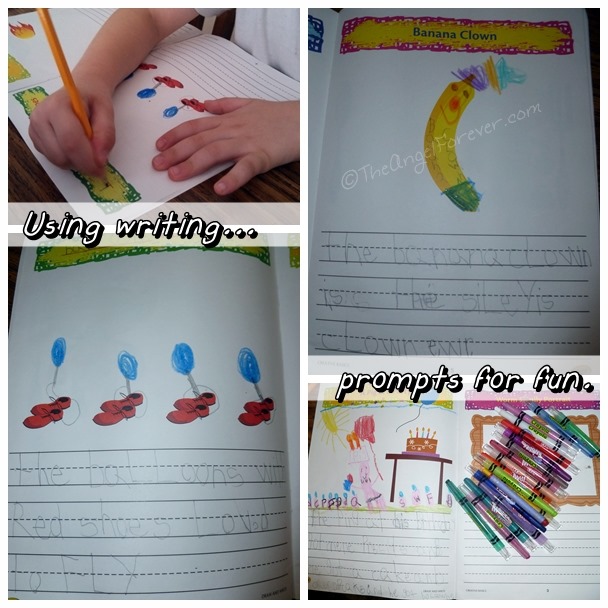 This book has been a lot of fun for both of us. JSL goes to it when he is not able to come up with something to write in his other notebooks. I love that he is actively engaged, excited, and proud to share his creativity. What I may do next time is encourage him to expand on the writing in one of his other books. Perhaps he can make it into a poem, or something else that will add some more words. I know he has been upset with the limited space, so perhaps he would take this suggestion.
While the Crayola book was a great tool, do not limit yourself to this. Think of different topics and silly ideas that your child enjoys. Buy a composition notebook and write a prompt at the top of each one. Think outside of the box, especially if you have older children that are reluctant writers. The possibilities are endless and perhaps you can have them give you a fun prompt to do and then share afterward.
Have you ever used writing prompts with your children? I would love to know how you use them. As always, Tuesday Tales is all about sharing our love of books. Please let me know what you have read recently. Be sure to link up to your book posts in the comments below. Include something you read on your own, with a child, or someone else.