I recently wrote about the dangers of Quantity vs. Quality When Reading with children. Over the years, I have watched my oldest son's interest in reading change. While NHL adores to read, he does not like being forced into specific genres, told how many pages to read, or pushed into a specific time to read outside of school. He will often pick up a book about people, places, science, and math just to read for fun. Yes, you read that right. He will often select items like that over a chapter book about fictional characters. So what does a parent do in this situation? Well, over the summer, I introduced NHL to the audio books on CD at the library. Then, the Samsung Galaxy Tablet that we received as part of the Verizon Lifestyle Bloggers changed things again.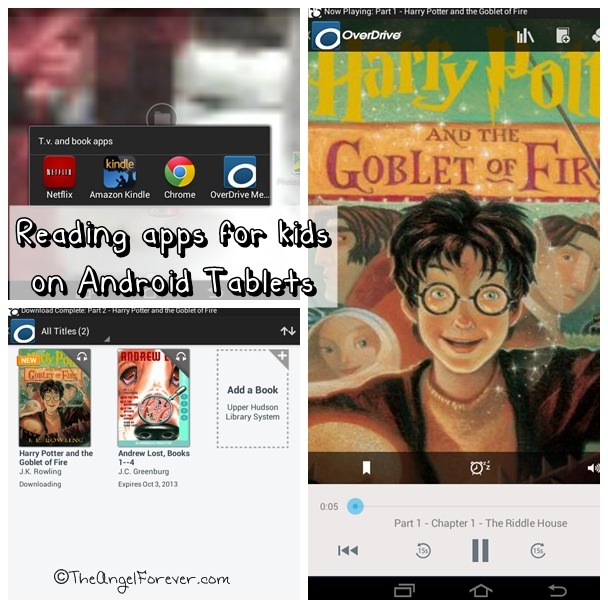 Thanks to several fantastic apps available for Android devices, we can "shop" for library books from home. As residents of New York, I have a New York Public Library Card. Using that, along with the options from the Upper Hudson Library System, I am able to browse through a lot of books for children. They not only have Harry Potter and countless other books for Kindle, but also MP3 audio versions. While some people may wonder why I would find audio books acceptable, I look at it as listening comprehension and expanding his appreciation for new books and authors. If something clicks, he may switch to an eBook format or possibly a paper book down the road. In addition to this, I know that some children do better when they hear stories. Some individuals on the autism spectrum have a hard time relating and connecting to fiction stories. Listening to them read by others sometimes breaks this and storytelling via audio helps to connect them to the fictional world. This just takes away one more sensory overload that could keep some individuals away from certain books.
The start of school meant that NHL came home with a weekly reading assignment. He has to read 20-30 minutes each night. To assist with this, I installed the OverDrive Media app onto his Galaxy Tab. We are not using this all the time, but it will be there in a pinch. It is something he can listen to on the go in the car, or in his room when he needs some quiet time. I loaded a series of books for him to try, but next time I am going to get NHL more involved in the search for something to read.
Do you allow your children to listen to audio books? I would love to know your thoughts on the subject.  As always, please share what you have read recently. Be sure to link up to your book posts in the comments below. Include something you read on your own, with a child, or someone else. Tuesday Tales are all about spreading the love for books.

Disclosure: As a member of the Verizon Lifestyle Bloggers, I received a Samsung Galaxy Tab 2 to test out and share ways that I use this in my life (we purchased a second one on our own). There was no other compensation. I am a long time Verizon customer, and all opinions are my own.