It's not a secret that I am fan of picture books. Kids of all ages love to be able to read a book and see the people, places, and things that the author is referring to. In the past, I wrote a review about the Good Question! series from Sterling Children's Books. My boys really enjoyed them at the time and I was curious to see what would come next. Sterling surprised us with seven of the latest books earlier this year, the kids ran off with them and it took me a while to get them back to review.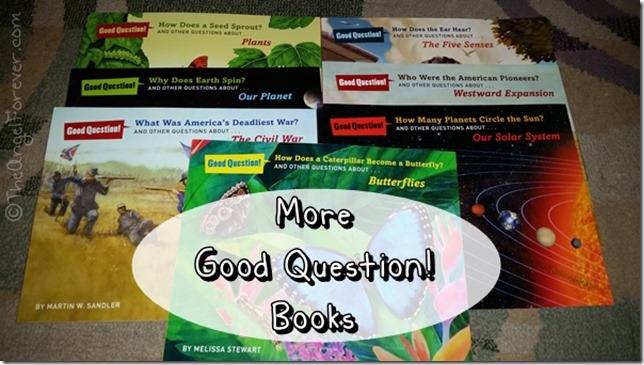 Once again, these books are filled with fantastic questions that many will have on a variety of subjects. They are answered in a way that will leave younger children satisfied, and possibly spark older children to do additional research on the topics. The combination of photos, drawings, and diagrams complement the words written on each page. Not only are there books about science, but two that answer questions on United States History.
Mary Kay Carson wrote How Many Planets Circle the Sun?: And Other Questions About… Our Solar System (9781454906698) and Why Does Earth Spin?: And Other Questions About… Our Planet (9781454906759). Some of the sample questions from the two books are:
What holds our solar system together?
Why are there footprints on the moon?
How did Saturn get its rings?
Which planet has a cloud named Scooter?
Where is planet Earth?
What is Earth Made of?
Why is the sky blue?
What is the hottest place on Earth?
Martin W. Sandler wrote What Was America's Deadliest War?: And Other Questions About… The Civil War (9781402790461) and Who Were the American Pioneers?: And Other Questions About… Westward Expansion (9781402790478). Several of the questions explored in this book include:
Who were the leaders of the war?
What was the first major battle of the war?
Why were horses so important in the war?
Why is Lincoln's Gettysburg Address such a powerful speech?
Why did pioneer families risk it all to move west?
Did pioneer children go to school?
What did the pioneers do for fun?
How fast was the Pony Express?
Melissa Stewart wrote How Does the Ear Hear?: And Other Questions About… The Five Senses (9781454906735), How Does a Caterpillar Become a Butterfly?: And Other Questions About… Butterflies (9781454906674), and How Does a Seed Sprout?: And Other Questions About… Plants (9781454906711).  The focus on science is clear with the questions including:
How do your eyes work?
How does breathing help you smell?
How does a butterfly escape from its chrysalis?
How do butterflies protect themselves from enemies?
Do all plants make seeds?
Which animals spread plant pollen?

All of the books mentioned were published in January 2014 and will soon have new Good Question! book brothers and sisters. Yes, another review is coming soon about the five books being released this July!
What topic would you love to see for a Good Question! book in the future? As always, Tuesday Tales is all about sharing our love of books. Please let me know what you have read recently. Be sure to link up to your book posts in the comments below. Include something you read on your own, with a child, or someone else.

Disclosure: My family received the books mentioned above from Sterling Children's Books in order to facilitate this review. No other compensation was given. The opinions expressed are my own.