As a teacher, I received a lot of gift cards to the local book stores. The most popular, for a while, was Borders. I was able to go and shop for myself, my classroom, and my family. With my free Borders reward card and teacher discount, it was a nice place to go and play.
When NHL was little, we used to go to Borders and spend a lot of time there. He would wander around the store, practice walking, or nap in his stroller while I would gawk at books to use in my classroom. When we would go to our local mall, we would always park by Borders. The kids always begged for a new book. Sad to say that TechyDad and I often caved at the bargain book section – especially before a trip away.
When we heard that Borders was going to close and start to liquidate their inventory, we figured we would head over there to see what was going on. The first day of the sale was during the heat wave, so it was the perfect location to spend time walking up and down the aisles.
Something caught me off guard. NHL, almost 8, asked me why Borders was going to close. I told him that sometimes businesses are not able to stay open, so they are going to be closing all of their stores. He was visibly upset and told me that he was sad. He stood there in the store recalling times that we had gone there together. He remembered books that we had bought, events we had participated in there, and on and on.
We walked around looking for something to get the boys. I was intrigued with some math/reading books for NHL, but passed. Instead, we got him a new Sudoku book for the summer and beyond. Then, I noticed the Geronimo Stilton books from Scholastic. My eyes noticed the one on Niagara Falls. NHL eventually agreed that he wanted to try that chapter book since it looked interesting and very different. Then, it was time to find something for JSL. He fell in love with a Winnie the Pooh book about the new movie. I agreed and he is in love with the Read-Along CD. He has never used one of these before and loves the character voices telling him the story for independent reading.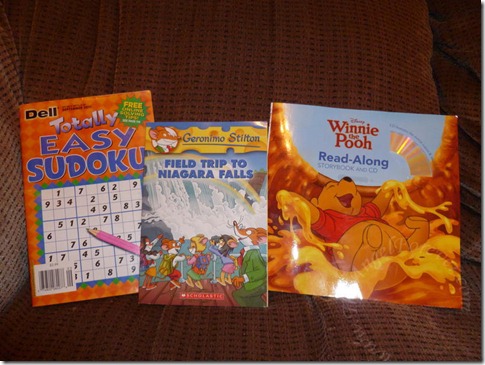 I also picked up a non-book item for TechyDad. They had Envirosax. They happened to sell the Sesame Street variety there. I was in luck, they had one of the Grover bags left, so grabbed it.
While paying, it was sad to realize that this was the last time I will use a gift card at Borders. It may be the last time we buy something at Borders. Of course, the memories of the times spent there, and the books we will continue to read that we bought there will live on.
What memories do you have of Borders? Did you go to their Harry Potter or Twilight Parties? Will you be going to their sale to see about getting some books to put away?
What have you read recently? Please be sure to link up to your Book Posts, and/or leave a comment below. Include something you read on your own, with a child or someone else. Tuesday Tales are all about spreading the love for books.