Weather – not exactly the topic of choice for a blog post, yet it is one that is on my mind. You see, in my part of NY, we expect weather issues in the winter. Ice and snow often keep us home, make driving treacherous, and cause damage to our home. This is not usually true in the spring, summer, and fall. These seasons are relatively quiet most years.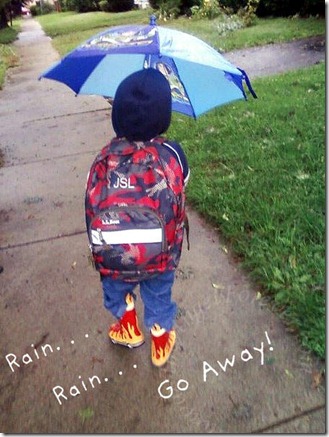 Mother Nature apparently decided that she was going to get our attention this summer. Over the last two and a half weeks, it has been wild, wacky, and down right deadly in certain locations.
Tuesday, August 23 – The boys and I just got into our car that had been serviced. As I turned the key, the car started to buck violently. The boys did not seem to notice. I got out of the car. This is when I felt dizzy and like my knees were going to go out from underneath me. This should have been my clue, but I was tired and getting ready for a romantic 10th Anniversary getaway with TechyDad. Thanks to Twitter, I quickly learned that what I had felt was not my car – it was an earthquake. Yes, in NY we were experiencing the quake that started in Virginia. Linda Carmical wrote about the social media connection and how word spread.
Sunday, August 28 – Hurricane Irene, came up the east coast and left a major impression on regions that were a lot further inland than ever expected. Thanks to this monster storm, we had to cancel said trip to Disney World. Roads were flooded throughout NY, bridges closed, and rivers running into homes that are gone. We were so lucky, but so many others were not.
For a few days, the weather was quiet. The sun came out. People started to clean up, repair homes, and move back into areas that had been evacuated by the Mohawk and Hudson Rivers. Then it changed.
Sunday, September 4 – While at a birthday party, my father called us. He wanted to let us know that there were tornado warnings throughout the area. Sure enough, when we looked outside the wind was wild and the sky rather black. The party was over and we knew that closer to our house was getting better. As we left Chuck E Cheese, a clap of thunder shook the entire parking lot. A car alarm went off, and the sky was lit up with bolts of lightning. As we drove you could see the ominous sky fading behind us. By the time we reached our home the news of a tornado in Amsterdam had been confirmed. Here is a video that was filmed of the Tornado crossing the NY State Thruway (at about 5:48 in the video):
This seemed to open the rain up to the area again.
Monday to Thursday, September 5-8 – Yes, Mother Nature decided to dump more water on the area already inundated with flooding after Hurricane Irene. Welcome the remnants of Tropical Storm Lee. Pieces were not picked up and inches of water were back all this week. Back to school has been gray, rain filled, and nasty. The Mohawk and Hudson Rivers, along with countless other creeks and waterways are over their banks. Watching the reports out of Binghamton, NY and other areas just breaks my heart. At midnight on Wednesday, areas in Schenectady County that had been evacuated during Irene were once again in chaos. People were told to leave immediately as water started to spill into the streets.
My heart goes out to all of those who have been dealing with this horrible weather and damage. We will be working on a project to help locals with items that are needed. Of course, I so wish we could bring some of the water to those in Texas. Thanks to the drought that area could really use it to help stop the raging wildfires.
So my question to you this week:
Do you recall many natural disasters from your childhood? If you do what were they and how did they change your life? Dare I ask . . . how is the weather by you? 
I hardly recall any other hurricanes in our area. I remember them going to Long Island and places south of us, but no flooding in our region like this.  This week, we are expecting the sun to return, which is much needed. Of course, this flooding will be an on going issue with any additional rain for months.

____________________________________________________________________________
Thanks to Kailani at An Island Life for starting this fun for Friday. Please be sure to head over to her blog to say hello and sign the linky there if you are participating.
Aloha #168