There are days that I thank my lucky stars that I am no longer a kid in school. Children today have it much different than we did growing up. Not only will they be mean to each other with words and punches thrown, but the online world has forever changed everything.
Bullying has always been around, but the lasting effects of bullies is new and drastically different. Thanks to social media, a simple poke at fun against another child will last FOREVER. Kids do not understand that everything placed on the internet is forever and can not be taken back. Simply deleting an item does not make it disappear.
Tweens, Teens, and even younger children know how to use Twitter, Facebook (even younger than the 13 year age minimum), and other online websites/blogs to assert their power. With a simple mobile device, a photo can be sent around the world. In an instant, reputations will be changed and the damage done. The worst part, anonymity can often hide a lot of things from the novice. Of course, nobody online is completely anonymous.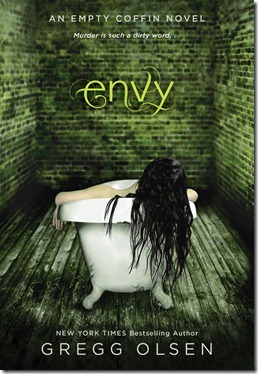 Why do I mention this? Well, cyberbullying is a reality in society today. Not only does it exist with adults, but also with our innocent children. Children have killed themselves after endless online and real life attacks have pushed them into the darkest of places that exists. When I was teaching middle school, I actually used an assignment to help catch a cyberbully. Yes, having a webmaster as a hubby paid off and taught at least a few kids (and parents) a very BIG lesson.
Author Gregg Olsen tackles this tough subject area in the first of his Empty Coffin Series called Envy. I introduced the book several weeks ago when I was finishing it up. Since that time, it has been on my mind a lot.
Bullying is a problem that our entire society needs to address. Parents, teachers, and others within the lives of children need to work on sensitizing children on how to recognize a bully, what to do if they are bullied, and how to help a friend that may be the victim. We often take this for granted because a lot of kids do not realize they are actively being bullied. Yes, even if it is painfully obvious to some, many kids are so hungry for social acceptance of any kind that they appear to ignore it. Are they really, or are they internalizing it? Envy takes us along this journey as two super sleuth twins uncover the pain that another had endured for so long.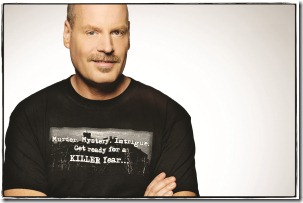 As I said before, Envy kept me on the edge of my seat. I saw some items coming, but did not see others. I knew the connection with real like cyberbullying cases that had been in the media and liked how it was incorporated into the story.  My mind was racing as I read. I wondered what other items could be done in the real world to protect other kids from this fictional fate. The sad truth, it is happening in the world. Cyberbullying is taking the lives of innocent individuals that feel trapped.
My hope is that people being more aware of this topic thanks to it being in the news, being incorporated in books like Envy, and on other platforms that we can help our youth. We may not be able to completely stop cyberbullies, but we can let then know that we care and will help in any way possible. Envy would be a great book to read with tweens and teens to discuss this topic. I can see it being used in a social setting, with teachers, and other venues.
Author Gregg Olsen has also talked about this topic. On his website, Olsen recently wrote a post called Changing the Question on Cyberbullying. He begins this section of his news notes with the following:
Not long ago, I asked readers "How Mean Are You?" I've been thinking a lot about cyberbullying lately, and now I'm wondering "How Brave Are You?"
Within the article, he goes into explaining how and why he changed the initial question. It is a very powerful read – especially with the quotes from kids. It hit me hard to know that some teens felt that if they told someone about their cyberbullying problems that it would only make matters worse.
I worry about this a lot for my children. My oldest has already been a victim of bullying and he is only in third grade. I cringe and worry about what I do not know, what he may be thinking, and what could happen to him behind the scenes. Thanks to people like Gregg Olsen and others like The Bully Project – people will be exposed to this reality and hopefully we can help our children.
Let's take this time to discuss the hot topic of bullying. Have you experienced it, have your children, or do you know someone else? Weigh in and let's share ways that we can help each other as victims, parents, educators, and others that need to wake up and see the problem that is bullying in society today.

Disclosure: I received this book complimentary of Sterling Publishing in order to facilitate a review. No other compensation was given. The opinions expressed are my own and the fact that it stuck a nerve was just a nice bonus to talk about something else that has also been on my mind.