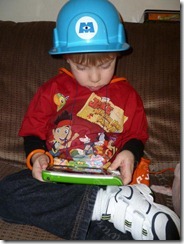 For almost a year now, my little guy has been quite into all things having to do with Pirates. When we made his birthday party, his request was for a Jake and the Never Land Pirates theme. Of course, Jake was new on the scene. Thanks to this, we had to improvise.
Once again, Pirates are on JSL's mind. Yesterday, he wore his Jake shirt for the premier of Peter Pan Returns. Yes, Peter Pan finally arrives on the scene with Jake and the Never Land Pirates. This is a huge event in a four year old's world.
The popularity of all things pirates is evident when you see all of the pirate themed birthday items, costumes, and lots and lots of books. Yes, authors are reaching out to new landlubbers to take them on an adventure with their own cast of pirate friends.
Last year, a Scholastic Book Club flyer came home and a book caught my eye. When I saw the title by June Sobel, I knew it was being purchased for our family. Shiver Me Letters: A Pirate ABC
seemed like a perfect book to help my little pirate loving child to immerse himself into his alphabet learning through literacy.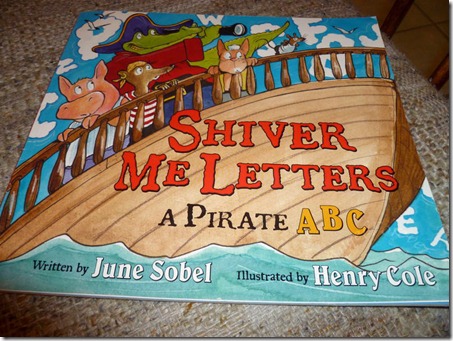 This book is now a family favorite. Big brother NHL even likes to practice his pirate talk when reading this fun tale to JSL. The pirate adventure begins with the captain of the pirate ship ordering his crew to find him more letters. After all, a pirate does need more than just his R's you know. The bright, cheerful illustrations by Henry Cole add another dimension to the story. What I really enjoyed was allowing JSL to search for each new letter within the pages. This helped him with letter recognition and gave us time to talk about what we could see within each page we turned.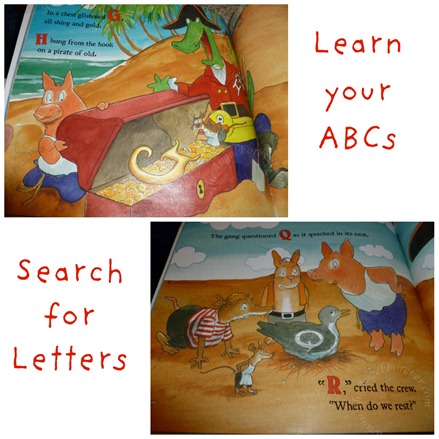 As an educator, I love picture books that tell a story, captivate their audience, and teach children at the same time. Shiver Me Letters certainly does this and more. What I also adore is that June Sobel has a page on her website for teachers. Here you can find some great items to print and pointers to use when reading this with your class. She also linked up to Scholastic's PDF with Read Aloud Activities to accompany the book. I have a feeling that JSL and I may have an alphabet treasure hunt next week during break. I know NHL would love to help us to make a map and I think it would be a great activity for all of us to do. I highly recommend this book to use with preschool and kindergarten age children to reinforce alphabet recognition and to create fun adventures with pirates and letters.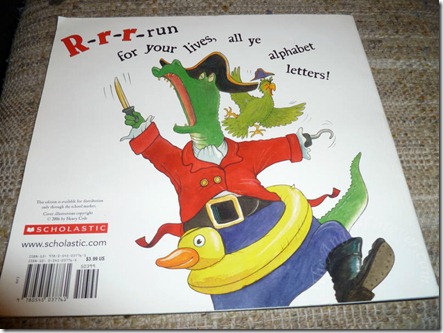 What have you read recently? Please be sure to link up to your book posts in the comments below. Include something you read on your own, with a child, or someone else. Tuesday Tales are all about spreading the love for books.

Disclosure: An Amazon Affiliate link is included in this post for the book mentioned. I will receive a percentage of money for the sale should you opt to buy the book through that link. We bought this book on our own from Scholastic and know it is on our gift list for other children.