My first real memory of a trip to Walt Disney World was when I was in kindergarten. Of course, I had actually been there several times before that. My parents have a cool 1970's style photo album that they turned into a scrapbook of my adventures there. There are photos of me running around the Contemporary Resort kiddie pool, taking a big sister only trip with my parents, and more. Still, my memories are of a family trip with another family. I remember going to Chef Mickey in what would eventually become Downtown Disney.
Epcot had just opened and I fell madly in love with Dreamfinder and a cute purple dragon named Figment.
My love for Figment held on during that trip when it was time to pick something special out. The figment I am holding below was the special friend I picked out from a bribe my father made with me for going on Space Mountain.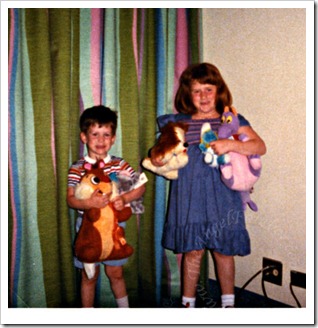 Growing up at Walt Disney World, I watched as it went from one park to four over the years. The Contemporary Resort and Polynesian Resort soon had more and more resorts cropping up throughout the sprawling land that Walt Disney had purchased in Florida. Going to Orlando and spending time at Walt Disney World with my mother, father, and brother was priceless. It was a place where we were carefree, all kids at heart, and my father and mother laughed, smiled, and were relaxed. Memories of my father leaving his lens cap on during the Hoop-De-Do Review always make us laugh. Then there was soaring high over the Seven Seas Lagoon with my brother as we went parasailing for the first time. Classic times that were even more magical at Disney.
It's no wonder that TechyDad and I picked Walt Disney World as our honeymoon destination. He had never been and I wanted to share my passion for this special place. I do not think it took a day and he was hooked. We even had a special tenth anniversary trip planned there in September. Unfortunately, that trip was canceled thanks to Hurricane Irene.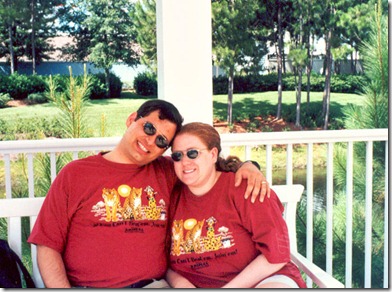 Now we both have watched as our two boys have caught the Disney bug. We have watched NHL and JSL meet characters, grow big enough to try out new rides, and many other items with us.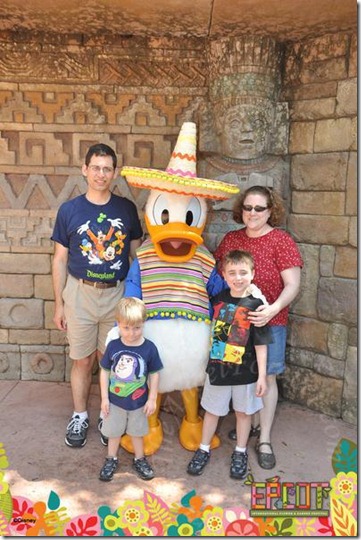 There are other places that we could go on family vacations, but each time is unique and provides us with special moments. Disney World is like a home away from home where we can forget about our troubles and enjoy time together.
So now it is your turn. What made you fall in love with Disney? Feel free to share a story, link up to a funny memory, or anything else in the comments.

P.S. A huge thank you to Mariana from The Domestic Buzz for creating this magical Blog Hop!