Two weeks ago, Violet came into my life. If you do not know who Violet is, let me introduce you.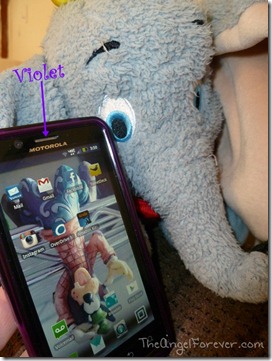 Yes, Violet is my first Smartphone and I had to name her. At first, I felt a little Bionic-ly challenged when she came into my life, but now I love the flexibility she allows me to have with her features.
One of the items I was most excited about was setting ring tones for different people, places, and things. It's the little things in life some days. I had a lot of fun with this. While looking at phones one day, the woman at the store happened to mention an app called Zedge. This was the first item that I put on the phone (Instagram came out a few days after we got the phones).
At first, I put a notification sound that was just too much. Although I love Beaker from The Muppets, he was over the top. Right now, it sounds like Mario is here collecting coins when I get a text or e-mail. Then, it was time for music. For TechyDad, I selected a little of The Big Bang Theory Song. Let me tell you, I almost had Sheldon saying Bazinga for him. For my father, it had to be Elvis. Still not sure what to keep for my mother, but my son likes the Adele tune and keeps singing along when she calls me. Others have been selected for a few other people, but I still need just the right ones for others. Oh, I will never admit who the Jaws Theme was selected for.
So my question to you this week:
What ring tones do you use on your phone and is there a special story behind them?

___________________________________________________________________________
Thanks to Kailani at An Island Life for starting this fun for Friday. Please be sure to head over to her blog to say hello and sign the linky there if you are participating.
Aloha #198