Growing up as a child that went to Walt Disney World a lot, we always had the latest tour books and guides. Of course, back in the day there were not a lot of choices. These days, there are a lot of books, but most Disney people agree that the king of all  books are the line from The Unofficial Guide series. Since 1985, these books have been carted from near and far to Walt Disney World.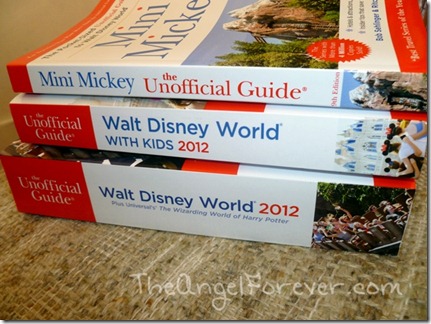 Reality check time. The giant Unofficial Guide Walt Disney World 2012
is not the only published item these days. No, now you have multiple options. Wiley Publishing sent me the three books seen above to help us to prepare for our upcoming trip to Walt Disney World. Although I knew the other items existed, I had never owned them before. We bought several of the big books in the past, but now we had these other books.
The Mini Mickey
is a great source of information wrapped up into a handy dandy size. As it states, it is the pocket-sized Unofficial Guide to Walt Disney World. Within the book, there are maps, ratings, and even some of the beloved touring plans for the parks.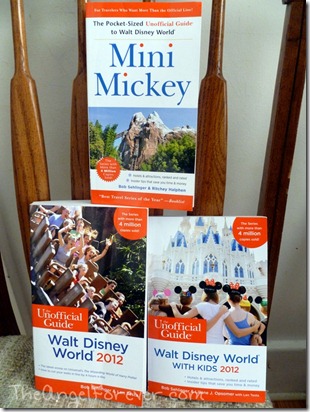 The Unofficial Guide to Walt Disney World with Kids 2012
really breaks items down based on how children may react to rides, shows, restaurants, resorts, and more. I love that they have more helpful hints about noise level and extreme darkness that could scare some children. I still need to get to know this book more since it is not one that I have used before.
The giant Unofficial Guide to Walt Disney World is still the mega go to book according to most of my other Disney loving friends. What everyone adores are the attention to detail, notes from other guests, and of course their detailed plans to maximize your park time. One item that seemed to be missing from the books was color photos.  Check out the latest book that arrived after I took the photos and started this post:
It's great to hear all of the wonderful things about say the Yacht Club Resort, but how about some photos inside the room Have no fear. You will also see pictures of rides, parades, and more. The Unofficial Guide: The Color Companion to Walt Disney World
is officially coming out May 1!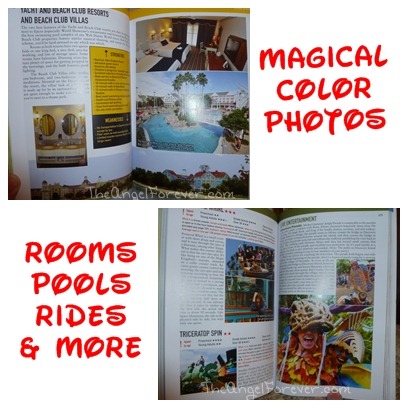 Another great item to know – the Unofficial Guides are also online. Yes, the official home of the Unofficial Guide is TouringPlans.com and there is also an app. On their website, if you get their all access option there is even more magic from the magical writers that keep everyone up to date on all things related to Walt Disney World. For die hard fans, they even suggest which park is best to go to on a given day based on past history. This is huge when you are limited on time.
I know that these books will be heading to this years Disney Social Media Moms Celebration and we will use them when on the plane, in the resort, and on the go.
Do you have thoughts on the Unofficial Guide to Walt Disney World. Let me know and/or ask questions that you have below.
What have you read recently? Please be sure to link up to your book posts in the comments below. Include something you read on your own, with a child, or someone else. Tuesday Tales are all about spreading the love for books.

Disclosure: I received these four books complimentary of Wiley in order to facilitate this review. No other compensation was given. The opinions expressed in the review are my own. Four Amazon Affiliate links are included in this post for the books mentioned. I will receive a percentage of money for the sale should you opt to buy any of the books through my links.