So how does one celebrate the Jewish Holidays in our house? In addition to our focus on the delicious items we will prepare, music plays a big part of our family traditions. Since the boys were really little, we have gathered a wide variety of Jewish music to share for Shabbat, Chanukah, Passover, and beyond. Many of our CDs and MP3s feature Mama Doni (Doni Zasloff). When we were asked to review Mama Doni's Jewish Holiday Party that was just released, we immediately agreed since we are big fans.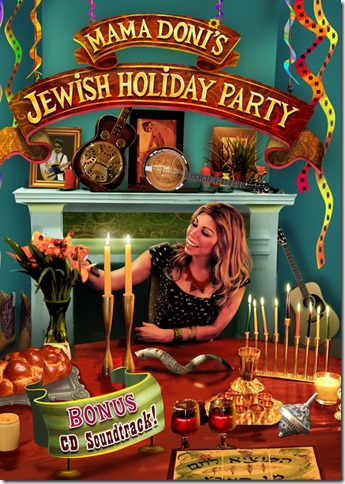 Embracing and honoring Jewish tradition with a fresh, new approach, two-time Parents' Choice winner Mama Doni (Doni Zasloff) sings, dances, and cooks her way through the holidays in a fun and inspirational DVD, Mama Doni's Jewish Holiday Party, and its companion CD soundtrack, Mama Doni: The Acoustic Jewish Holiday Collection.  (DVD: $19.98, includes bonus CD, run time 66 minutes.  CD alone: $12.98, run time 43 minutes).
The timing of this DVD is perfect with Chanukah coming early this year. If you have not heard, Jewish families across the United States will be lighting their menorah during Thanksgiving dinner. Thanksgivukkah (as many are calling it) has not happened since 1888 and will not happen for another 77,798 years. The DVD features three segments. One is about Chanukah, another features Shabbat, and the last has a focus on Passover. The boys and I focused on the Chanukah one for now. The first thing that we noticed were some familiar songs from Mama Doni's Chanukah Fever CD (previous post about this) that the kids adore. JSL loved watching the humorous video that goes along with Honey, This Ain't Money! One of my favorites was the Bluegrass version of Chanukah Oh Chanukah featuring Eric Lindberg. Check it out here so you can see what I am talking about.
In addition to videos, Mama Doni also shares Chanukah traditions. Doni takes us into the kitchen to make potato latkes. She shares the recipe that is included in her book Get Cooking: A Jewish American Family Cookbook
(previous post). Over all, the variety in the Chanukah section kept the kids watching and interested to see what the Shabbat section included. I know they look forward to checking out the Passover segments a bit closer to the holiday (their focus is on Chanukah this month). Once again, Mama Doni has left us smiling, laughing, and singing along with her brilliant approach to Jewish music. Her passion to share Jewish traditions within this DVD are obvious thanks to the enthusiasm that you can not only hear, but also see. I know we will continue to watch for new projects from Mama Doni in the years to come.
Tuesday Tales is usually about books, but music and holidays are also important. What video is a favorite in your family for the holiday season? As always, Tuesday Tales is all about sharing our love of books. Please let me know what you have read recently. Be sure to link up to your book posts in the comments below. Include something you read on your own, with a child, or someone else.

Disclosure: Waldmania! provided me with a copy of the Mama Doni's Jewish Holiday Party DVD to facilitate this review. All opinions are my own and no other compensation was received. As mentioned above, we have done previous reviews of Mama Doni's CDs, but have also purchased additional titles on our own.