As a science teacher at heart, I love to read books that promote fun learning. I have shared many books that the boys and I have read over the years that fall into this category. The other day, while visiting the Museum of Innovation and Science, I realized that we missed a biology related book series. Thanks to the Grossology  exhibit which will be at miSci until September 1, I know a series of books that the kids and I will have to explore this summer.
Grossology definitely captured the interest of my two boys for several hours. In addition to this, TechyDad and I wanted more time to spend reading and trying everything that was new to us. Seriously, it isn't every day that you walk into an exhibit via a mouth, only to head toward a climbing wall where you learn about the skin.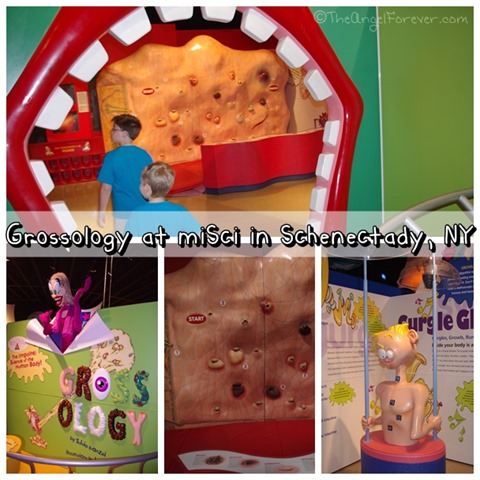 After looking around a bit, JSL and TechyDad decided to pick the nose to explore (pun intended). The two of them spent a bunch of time in there looking around at things that both have or will be having surgery on.
Meanwhile, NHL was off operating on a patient. This giant body was filled with organs and bones that had to be carefully removed. This was a fun and interactive area for older children.
JSL's favorite area had to be the small playground section that was a mock up of the digestive system. He loved going into the mouth, sliding down the esophagus, and crawling through the intestine, and out the end onto the poop mat. Yes, they keep it classy here to teach kids. As he says, "First I was chewed and swallowed. Then I slid down into the belly, and was pooped out!"
As the boys played, I captured a few Instagram videos and photos along the way. The burp and flatulence makers were clearly favorites of my boys because of the music they made. My favorite spot was Gas Attack. I mean what's not to love about cheese, cabbage, pigs, and pinball machines?
Lots more to share from Grossology, but I will do that another day. I know the boys and I will be heading back to miSci to explore the exhibit another day because we just renewed our membership for another year. Until that time, I will be getting the books that inspired this fantastic exhibit that is now only in the Capital Region, but other locations in the United States right now. I can not wait to check out more from Sylvia Branzei and illustrator Jack Keely.
Have you ever been to a Grossology exhibit or read one of the books? As always, Tuesday Tales is all about sharing our love of books. Please let me know what you have read recently. Be sure to link up to your book posts in the comments below. Include something you read on your own, with a child, or someone else.