It's true, we went to see the new Winnie the Pooh Movie on opening weekend. Although I really, really, really wanted to see one of the Harry Potter movies before it is released on DVD, it will not be on opening weekend. I am okay with this. Sure, I stood in front of the door showing Harry Potter and whined for a minute, but I got over it.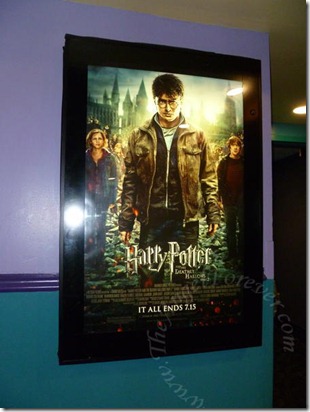 It would have been magical (pun intended) to see Harry Potter with friends yesterday, but watching my boys laugh and smile for an entire hour was well worth it. I purposely put the little guy in his favorite shirt and I had my Eeyore shirt on. I had expected longer lines to get the tickets, but it was rather empty at noon. When we walked into the theater, we were the only people there. The boys settled in and were fascinated with the new kids previews before the real movie started.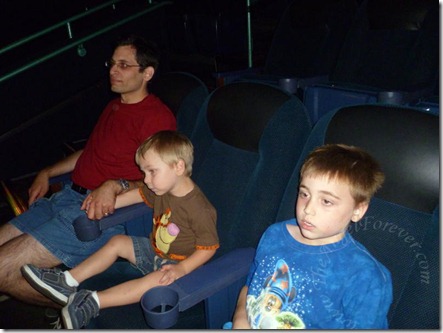 We all really enjoyed the movie. It kept the interest of not only a 4 and 7 year old, but TechyDad and I really enjoyed it as well. There was humor that those who could read would understand, and silly things for non-readers too. I truly felt like I had been immersed into the Hundred Acre Woods with all of my favorite friends. Secretly, I was thrilled with how much screen time Eeyore had. TechyDad and I were also impressed with The Ballad of Nessie that came on before the feature. This had such a powerful lesson within it that it could easily have a post for itself.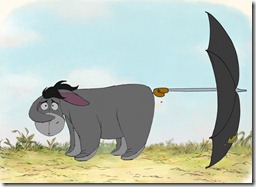 In the end, my only criticism was that the Winnie the Pooh movie was only about an hour and ten minutes. I wish it had gone longer. I wanted there to be more, but it probably was a nice spot to end. I will not spoil anything, but need you to know something important. When you go to see the new movie, do not leave before ALL of the credits are over. Several people in the theater left and missed something worth the wait. It's Disney and you know there will be something at the end.
So before I go, I will share a little segment from the movie that Disney has released in honor of the movie opening on Friday. Enjoy!
Have you seen Winnie the Pooh or the last Harry Potter movie? If you have, please let me know what you thought (no spoilers).
Disclosure: My family and I paid for our own tickets to see Winnie the Pooh at Regal Cinemas. We had been invited to a screening of the film, but they were too far from us to attend. Our love for all things Disney meant that we had to share our experience and the clip from the movie for your enjoyment.