On Tuesday morning, NHL had his braces put on his teeth. To help distract him for a little while, the boys and I went to miSci to explore some of the new exhibits for an hour. While the Dinosaurs! area was not technically open, many of the sections were able to be seen while we were there.
We roamed around and the boys had their photos taken with triceratops together. Then, JSL put his head into T-Rex's mouth. It was either time for his dental exam or he was making the kiddo lunch. We saw a few more of the areas that were visible. At the time, Instagram video was not working, so I made this Vine to share.
A few of the areas were still roped off until the member preview on Thursday evening and the official opening on June 29.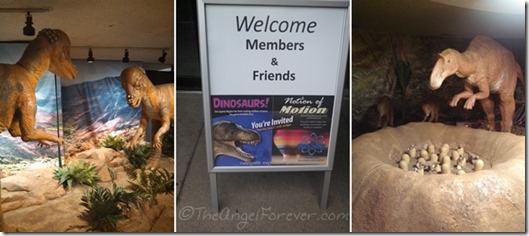 We went to the members preview and we had a wonderful time looking at all of the dinosaurs. While we had technically seen them three years ago while visiting the Buffalo Museum of Science, it was interesting to see them in different areas of miSci in Schenectady. More video and photos to come as I go through the photos and we head back to visit them again when it is a bit less crowded over the next few months.
So my question to you this week is inspired by the new exhibit:
What are the favorite dinosaurs and why? Perhaps you wrote a report in school as a child, or your son/daughter likes one for a special reason.


___________________________________________________________________________
Thanks to Kailani at An Island Life for starting this Friday fun. These days, Pamela at A Renaissance Woman is reviving the fun Friday Meme. Head over there to link up and join in the fun.
Aloha #244