I always wonder what will happen when we plant our garden. You see, we have a track record with things happening. On the top of my garden worry list:
Will our neighborhood bunnies eat everything?
Will the rain/hail/storms ruin it?
Will the sun/heat/humidity kill it?
Will we get anything to harvest?
Two years ago we had some success, but last year we had nothing aside from some fresh basil. This year we hoped for the best, put the plants in a new location and kept watching. This is what they looked like just over a month ago (May 22 to be exact):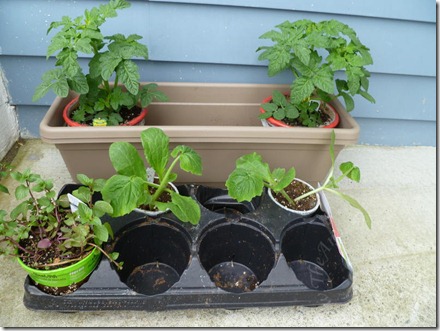 The two small tomato plants are in back, pretty sad looking zucchini plants in the middle, and the small peppermint plant. Check out what they looked like as of Friday. We will start the tour with the zucchini plants. I think you will see that it seems pretty happy.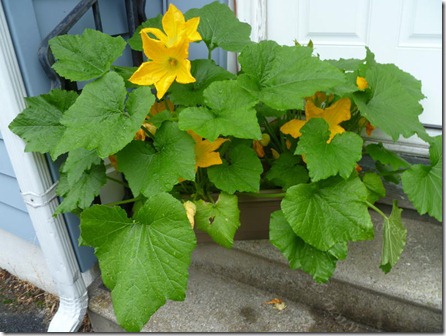 Yes, they are thriving at this point and even have a few other items that have us very excited. Check this out:
Those tomato plants have gotten to the point that they had to move. They were too large for their location and needed a bit of extra support. As you will see, there are also some tomatoes growing on that.
That tiny little peppermint plant has already had leaves plucked from it and consumed by the boys and some neighbors. Check out how it has grown over the same period of time:
After we bought the initial plants, we found some cucumbers to grow. They had a rough start, but are finally perking up and doing better with a bit more space.
Now we just have to hope that the weather, bunnies, newly found chipmunks, and other natural issues let our vegetables continue to grow so we can pick them and eat them soon.
Did you plant a garden this year? If you did what did you plant and how are things growing?
Please let me know if you posted something about your garden. I would love to stop by and see any photos.