Wow. Ten years ago today I married JL. Way back in the day, he was not TechyDad. The Angel Forever was getting ready to become the Mrs to her Long Island Love.
At that point in our lives we knew that one day we would be parents, but were young, naïve, and focused on our wedding day. The stresses leading up to our magical day all melted away on that beautiful Sunday morning. Before we knew it, our ketubah was signed and we were standing under the chuppah in front of all of our family and friends.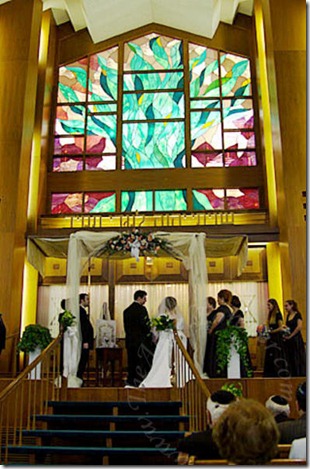 Most of the actual wedding day events are a blur to me. I hardly recall eating, drinking, or much. Thank goodness we have photos. Here is a rare moment when we sat down at our wedding table. Note that even Mickey and Minnie were invited to celebrate before we went to visit them on our honeymoon.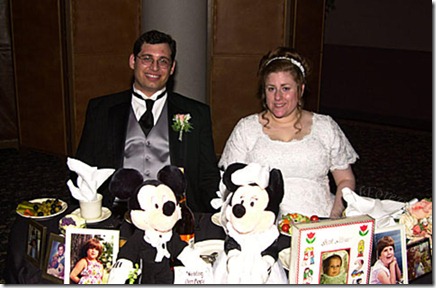 The next morning we left early for our long awaited Disney World honeymoon. This was JL's first time there and I was determined to make him as crazy about Disney. I do believe it worked.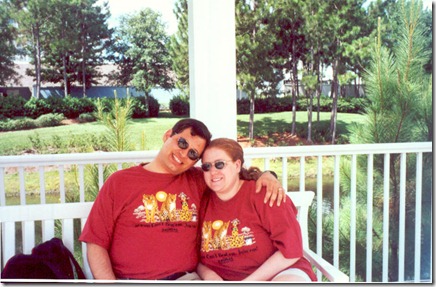 We had a magical ten days at Disney dining, exploring, relaxing, and romancing. I think JL saw that Disney World is not just for kids. We went to see Cirque du Soleil La Nouba, and did several behind the scene tours and were spoiled as newlyweds. Yes, we were Disneyfied!
Since we stayed at The Beach Club Resort, we walked from our resort into Epcot a lot to dine. We would enter the park via France in World Showcase. Almost ten years later, we stopped for a rare photo together while visiting France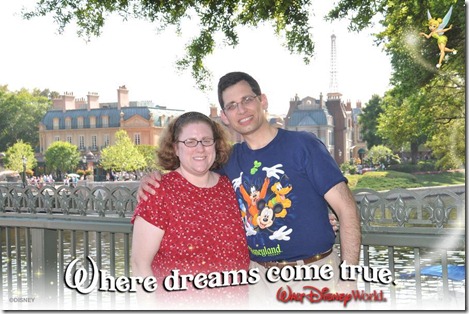 My letter to TechyDad from last year still holds true. I am beyond lucky to have an amazing husband and best friend. It has been quite an adventure the last 10 years, and I look forward to many more magical moments together. I love you with all of my heart and look forward to the rest of our lives together.
So my question to everyone today:
Where did you go on your honeymoon and have you ever been back? If you are waiting for the honeymoon of your dreams, where would you like to go?
For more wedding photos and memories:
Pssst . . . be sure to stop by my Cars 2 giveaway to enter for a chance to win some great items.
____________________________________________________________________________
Thanks to Kailani at An Island Life for starting this fun for Friday. Please be sure to head over to her blog to say hello and sign the linky there if you are participating.
Aloha #157