Over this summer, I have written about the reading program that the New York libraries were running. I love that each local branch can do things differently to encourage children to read. Thankfully, this summer I have not had to really push the boys to read. Keeping track of the books that have been read, now that is another issue in itself.
While shopping for books at Barnes & Noble, the woman helping us asked if we had taken a Summer Reading Journal for the boys to fill out. While I had heard about the program, and we had done it in the past, I forgot to do it this year. We took two of the forms home to fill out.
What is the program? Basically, Barnes & Noble encourages children to read over the summer. When they read eight books and fill out a form, they are eligible for a free book at their local store. The journal must be completed and brought into a store by September 4, 2012. Then, they may pick from a book on the list features within the journal. This weekend, we took the boys to our local store to select their books.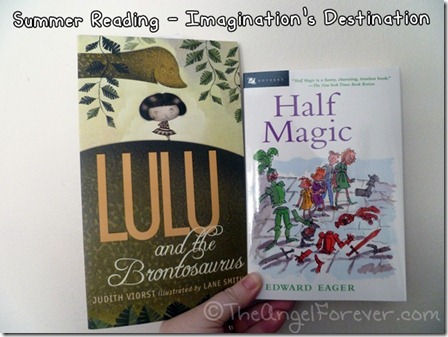 There were 18 books on the list, but not all of them were still on the section for the reading program. The boys picked out the books above. JSL likes dinosaurs and thought the new chapter book would be fun to start reading together. I can not wait to read LuLu and the Brontosaurus by Judith Viorst with him. TechyDad sold NHL on the quirk in the book Half Magic by Edward Eager.
I thought I would share this with others in case you were not aware of this. To print the reading journal at home, you can go here. The journal lists the books that may be available to select from when you get your reward. In addition to this, Barnes & Noble has an activity kit that teachers and parents may want to look at. It has some interactive sheets that look like a nice resource.
A huge thank you to Barnes & Noble for running this program. As an educator and parent, I love that you are encouraging literacy and introducing children to new books. Enjoy and happy reading with your family!