Thursday, April 26th was a busy day in our house. We woke up before the sun was shining and packed the boys and suitcases into the car. By 7:30, this was the view from our Southwest Airline plane taking us away to Orlando, Florida for the 2012 Disney Social Media Moms Celebration.
At noon, the Magical Express taking us from the airport pulled up at Disney's Yacht Club Resort. The excitement was in the air as we were Tweeting with a few other bloggers while on the bus. After we checked into our rooms and dropped things off, it was time to head down to find the Disney Social Media Moms check in for our park tickets and schedules. On the way down, I noticed some familiar faces. I saw Suzannah, Amanda, Jackie, and Leigh. I ran down to say hello, give hugs, and then went with TechyDad, the boys, and my parents to the convention center area.
NHL was so excited to see the sign and ran ahead to show us the way to get our items. We bumped into Mary and Amy from BSM Media and Maura from Disney. Then it was time to toss things back into our room, get park tickets, and head over to Epcot for lunch. Since you can walk to Epcot via the International Gateway, TechyDad and I suggested going to France for a quick lunch. On the walk over, we saw the beach getting set up for our Pirate Soiree that evening, watched the palm trees blowing in the breeze, and saw beautiful topiaries set up for the Epcot Flower and Garden Show.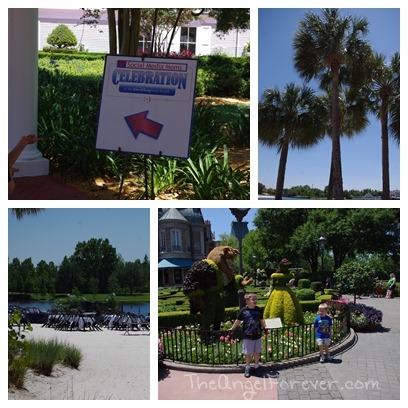 Lunch was perfect to hold us over until later on and gave us some energy to tackle some more of Epcot. The boys asked to stop in Great Britain to play in the maze there after checking out the Winnie the Pooh topiary. Then we continued to walk around World Showcase and noticed that Duffy was outside for photos. We missed him on our last trip, so it was perfect timing with a short line.
Next, we decided to go to Mexico to do one ride before heading back to the Yacht Club. It was time to sing and ride in the boat while chasing Donald Duck around.
By this time JSL was really tired and we hoped to get him to rest before the party on the beach. NHL wanted to roam more of Epcot. I said that I would walk around with him to see Figment. We wandered to Journey into Imagination.
Since we still had more time, we walked by The Land and over to The Seas with Nemo & Friends.
We walked a lot in a short amount of time and decided to take the boat back to the Yacht Club. When I got back, TechyDad and I had about an hour to get ready  to make it to the Cocktail Welcome.
So much more to share coming soon. Next up, the Welcome Cocktail party and Swashbucklers Soiree.

Disclosure: Although we paid for our own trip to Disney World to attend the Disney Social Media Moms Celebration, we were given an incredible deal from Disney. Also note that Disney never asked us to blog about this event. As a long time Disney fan, it is my pleasure to share my experiences from the event.