I fully admit that I allow my children to watch television and have since they were little. When NHL was little, we would sing and dance along with Bear in the Big Blue House, The Wiggles, Stanley, Jo-Jo's Circus, and other shows on what was then called Playhouse Disney. By the time JSL was born, the shows had changed and things were morphing into Disney Junior. For JSL, we would sing and dance to Mickey Mouse Clubhouse, Jake and the Never Land Pirates, and The Imagination Movers.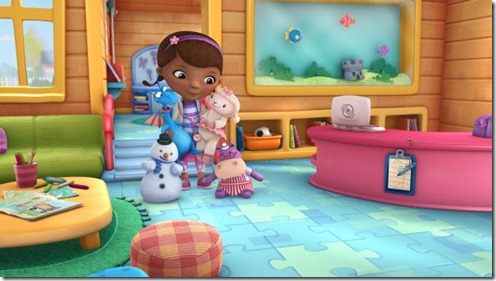 Of course, Disney Junior is no longer just a morning lineup for children on Disney Channel. Now, it is a dedicated cable station that runs 24/7 with kid and family friendly programs and movies. When the channel debuted, we got to meet Doc McStuffins. Doc is now a major favorite of my four year old son. He pretends to be a doctor and I will often hear him singing the songs when playing on his own.
If you are unfamiliar with Doc McStuffins, please watch this small segment.
As a parent, I love that Doc uses real terms for things (though some are made up), incorporates items to help ease kids fears of medical professionals, promotes women as professionals, and embraces stay at home fathers. There are also great online Doc items on the Disney Junior website.
While at Disney Social Media Moms Celebration, I will be attending a break out session that will be with the executive producers of Doc McStuffins. It will be wonderful to hear how they select topics for the show and make them developmentally appropriate for our children. I know that thanks to their work my youngest is even more well versed in staying hydrated, getting rest, being compassionate, and other healthy living items.
Are you a Doc McStuffins fan? What is your family's favorite character or part of the show and why? 
Disclosure: Although we paid for our own trip to Disney World to attend the Disney Social Media Moms Celebration, we were given an incredible deal from Disney.  Also note that Disney never asked us to blog about this event. As a long time Disney fan, it is my pleasure to share my experiences from the event. Thank you to Disney Junior for the photo and more clips can be found on their YouTube channel.